Sharing the experience of Mendenhall Ridge gravel has been on our radar for awhile, but the question is how.
While I've ridden this sixteen mile stretch of dirt a couple of times before, experiencing it without doubling back has always been an issue.
The simplest route has been a 42 mile loop paired with Little Tujunga and Santa Clara Truck Trail, but comes out to a robust 6,500 feet of climbing with no water to boot making it a long day.
Very rarely can you make a work around unless you have divine intervention or a love of trains like I do.
I'm happy to take rail anytime possible and wish California had more options, so finding a route convenient to me I had to take.
While people first think of Amtrak, Metrolink's system is far more robust around Los Angeles offering eight different lines at a higher frequency.
May's Bike Week offers a number of incentives including free rides as the Antelope Valley line would serve perfectly for this adventure.
We boarded the train at the San Fernando / Sylmar Station easily finding the "Bicycle Car" passenger car that had plenty of parking inside.
Riding a train is just such a pleasant experience as there's no other smoother way of travel and you just don't want to get off.
Our pedaling began exiting at the Vincent Grade / Acton Station dressed like a commuter stop where we decided to head towards Alison Canyon Rd adding three miles and some extra vert to avoid high speed traffic on Angeles Forest Highway.
This road offered us seven miles of familiar climbing where progress feels longer than reality as riding under the base of the mountains as your perspective shifts slowly.
Unfortunately, you need to continue up Angeles Forest Highway, but at least its a steady effort at under three miles with water at the peak up Mill Creek Summit to your left.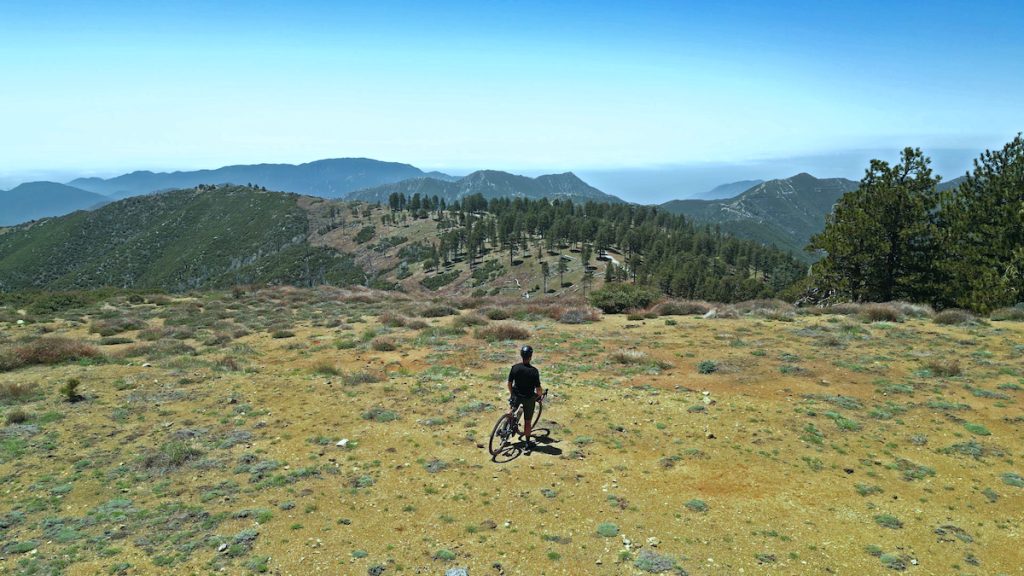 Crossing back over ANF, your Mt Gleason Rd adventure begins with six miles to the site of Camp 16 with the first third of the ascending variety and the rest rollers you can enjoy.
After riding through this landmark of the 2009 Station Fire, there's one more significant climb on this road left experiencing a painful mile and a half above 10%.
Adding a slight half mile of uphill, I always take the sidebar to the peak of Mt Gleason and at 6,520 feet you have a circular view of the San Gabriel Mountains, Los Angeles Basin and beyond.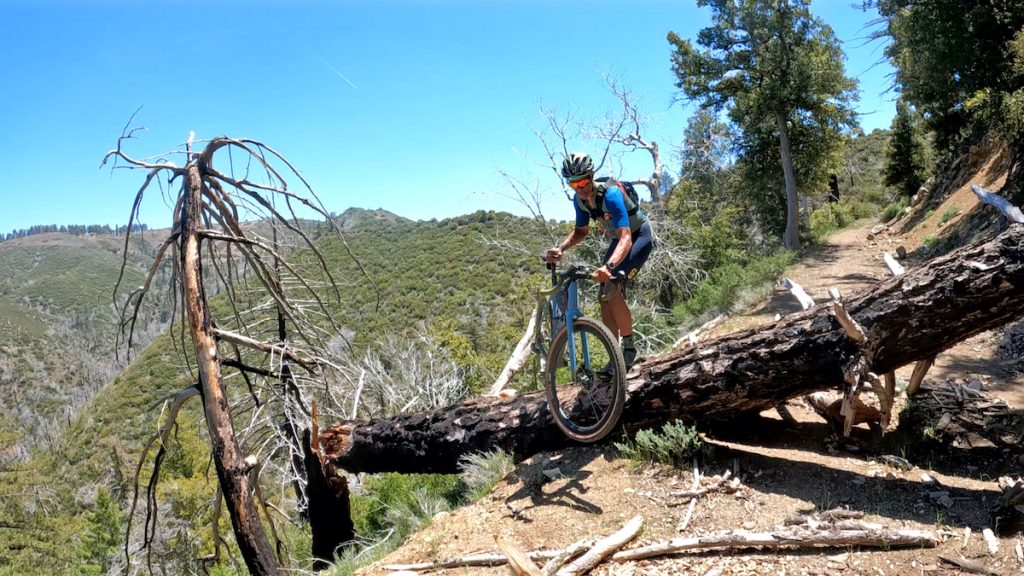 Coming to a T at the end of the pavement, continuing to the right would bring you down the Santa Clara Truck Trail, but your Mendendall Ridge gravel journey starts on your left as you pass Lightning Point campground.
This descent can be split into three segments divided by two short climbs, the first being in good condition despite a number of downed trees, the second requiring some maneuvering dealing with overgrowth and the last letting go ending on a high note.
With all this downhill, you may not appreciate the surrounding as much focusing on what's ahead, but it's amazing the level of solitude you face on this road even when you flip sides on the ridge.
Exiting you can continue dirt down Kagel Canyon, but even with the extra miles it should be faster heading down Little Tujunga.
While the milage on this point to point was about ten miles longer than the loop, I feel like this was a much cleaner ride especially when you consider the vert was less strenuous.
Trains are a perfect supplement for gravel adventures and you'll be surprised how many options there are in front of you.