Gravel Bike California has had a number of unique experiences across the state, but exploring Desert X brought a new wrinkle in our travels.
People have always asked about riding gravel in the Coachella Valley and this excursion forced our hand.
Desert X is outdoor art exhibition is laid out every two years with temporary installations held during spring.
Since this was a matter of dropping pins on a map, coming up with a route that was efficient against traffic and the elements was key.
I mapped out a 73 mile route limiting distance as much as possible and knowing how loose the sand is, limiting our exposure as much as possible.
While constructing the loop was simple, the biggest consideration was which direction and where.
The big concern was reaching Matt Johnson's Sleeping Figure that is a collection of stacked shipping containers on the western end of the Coachella Valley.
Looking at the surroundings, it's easy to notice the largest obstacle in reaching it is tied to the abundance of windmills around.
There are only a couple of options reaching it, but both meant going into the headwind, so we decided to hit it early as gusts are even stronger in the afternoon.
Riding next to speeding traffic on Highway 118 definitely wasn't a highlight, but we were happy biking to this installation as it would have been quite a hike on foot.
Our route also sent us through the space age scale of the windmill farm where we also discovered a hundred year old section of Highway 99.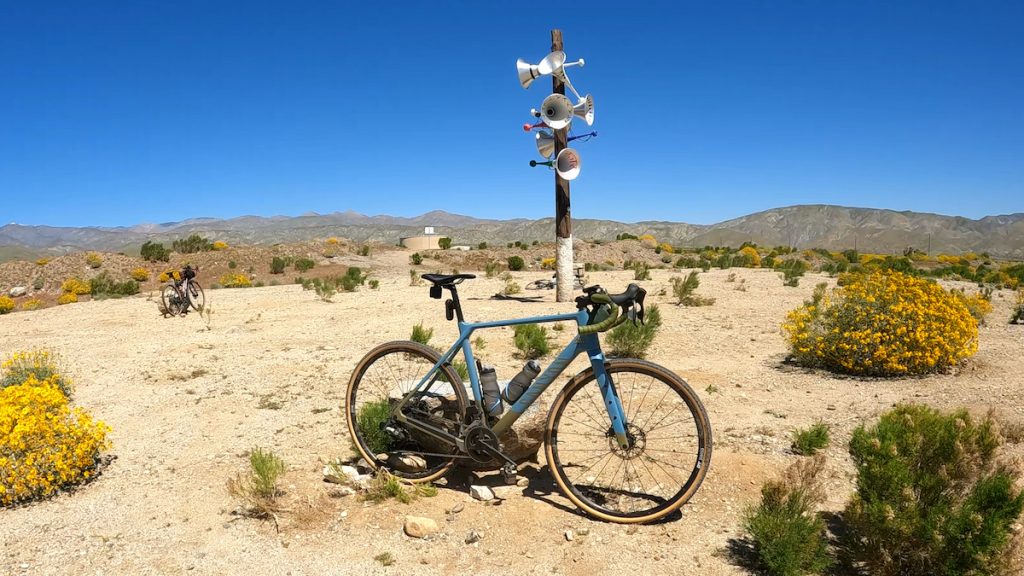 Right beyond we encountered our most isolated and favorite installation of Desert X in Namak Nazar that was part audio / part sci-fi but definitely complimented this unworldly landscape.
One warning was that some of our off-roading short cuts didn't come to fruition as our mapping app and google maps didn't hit 100% accuracy, not to mention a good portion was routed onto heavily trafficked streets sometimes sending us to the sidewalk.
Still, navigating this exhibition with human power complimented their connection to nature and their environment even further.
Desert X was an experience that made me expand my definition of what a ride can be as the best common denominator for a bike ride should be exploration.