Gravel provides the enjoyment to escape from it all and Mount Lukens is one of the best climbs in Los Angeles that does it close to an urban area while providing a surprising amount of epicness.
If you've ever ridden up the Angeles Crest Highway, it's not hard to notice the number of cars parked around the fire station less than a couple of miles from the Angeles National Forest entrance.
The difficultly though comes in climbing it.
While the overall numbers show it averages 7.2% over 7.26 miles, but with a couple of dips you'll be pushing near double digits most of the way.
The first mile sets the proper pace and if you're comfortable grinding that, then you'll know what tempo to expect for the rest of the ride.
Right at mile two, there's a slight diversion to the south to pass by a bee colony (look, don't explore) and the tepee overlook.
Fortunately, there are plenty of great viewing spots along Mount Lukens Road so you can keep at it.
What amazes me most about this ride is the perspective you get not just by climbing so high, so quickly, but the positioning of the mountain too giving great separation of the views into the Angeles National Forest.
My favorite note though is looking down the Los Angeles Basin and how Mount Lukens is like those Russian Eggs seeing Mount Lee (Hollywood Sign) looking small behind the Verdugo Mountains which you'll be towering over.
There are other options for heading down, but Haines Canyon and Earl Canyon are not high on the enjoyment front for gravel so I recommend to avoid.
Instead, Grizzly Flat Road which is just two miles back from the peak of Mount Lukens is my favorite way back on the return, not just for something different, but a whole other feel.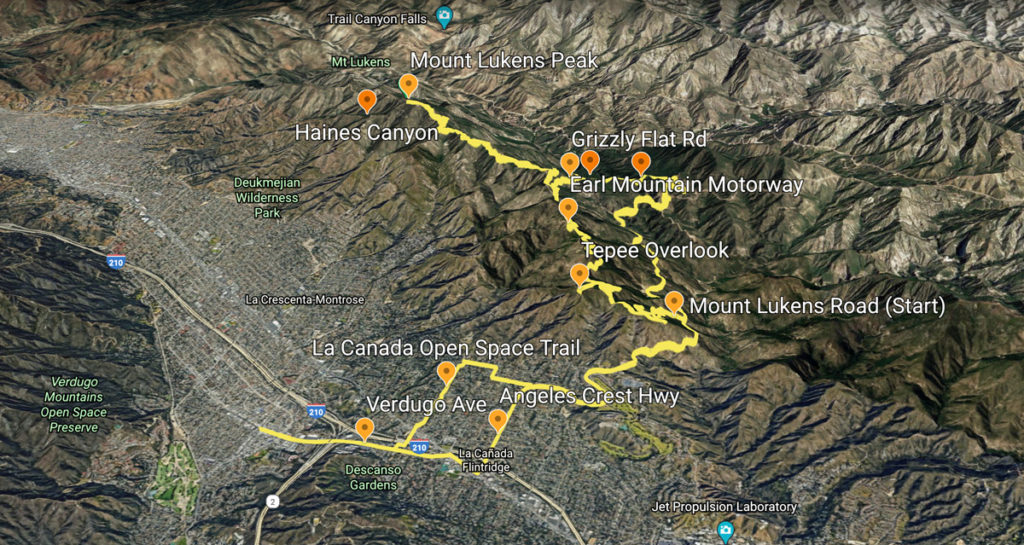 Being nestled deep under the north side of the ridge, the chilliness gets trapped in and if you're lucky you'll catch some wintertime charm in there.
It's always interesting how much this trail changes based on how much the elements affect it, as well as the capacity to keep it clean, but lately it's been a smooth ride down.
Grizzly Flat Road indiscriminately turns into Hoyt Mountain Road which shoots you out onto the Angeles Crest Highway about three miles above where you left it.
This is a worthy adventure and a great place to dip your toes into gravel if you're a roadie who likes climbing and wants to take on dirt.
Mount Lukens awaits…