There are a lot of emblematic historical landmarks in California, but none match the intrigue of biking the Hollywood Sign.
While there are opportunities galore, how many of these destinations are perched at the top of a mountain?
When the sign was erected in 1924, I could imagine it being an eyesore as this advertising technique was not limited to Mount Lee alone.
Seeing it's global fame, it's hard to imagine that it has been repaired twice due to not having that much luster locally.
Now, snapping a pic with it is one of the primary gets for tourists, so with the popularity you could see why reaching the sign is difficult and why biking there is your main choice.
First of all, even if you could drive to the top, the road is too narrow to accommodate vehicular traffic, let along parking and turning around.
Even the neighborhood around the entry point doesn't have a layout that allows for much more, so much so that even with parking restrictions, they've gone digital to keep the nearest point best hidden as possible.
If you want to hike there, it'll be about three miles from most available parking spaces to reach the peak.
Now see why biking there is the best choice?
The 1.2 miles up where Mulholland Highway ends where Mount Lee Drive to the top is no getting around.
This is no easy climb with two-thirds of it averaging 10% with some parts even steeper than that.
Getting to the starting point of this segment does provide options as most on a road bike take Deronda up or break it up taking other connectors to it below.
The beauty though of taking the gravel route is two-fold(maybe three if you count riding dirt).
For one, it cuts down on hitting any of those punchy, steep pitches you'll find laced in the hills.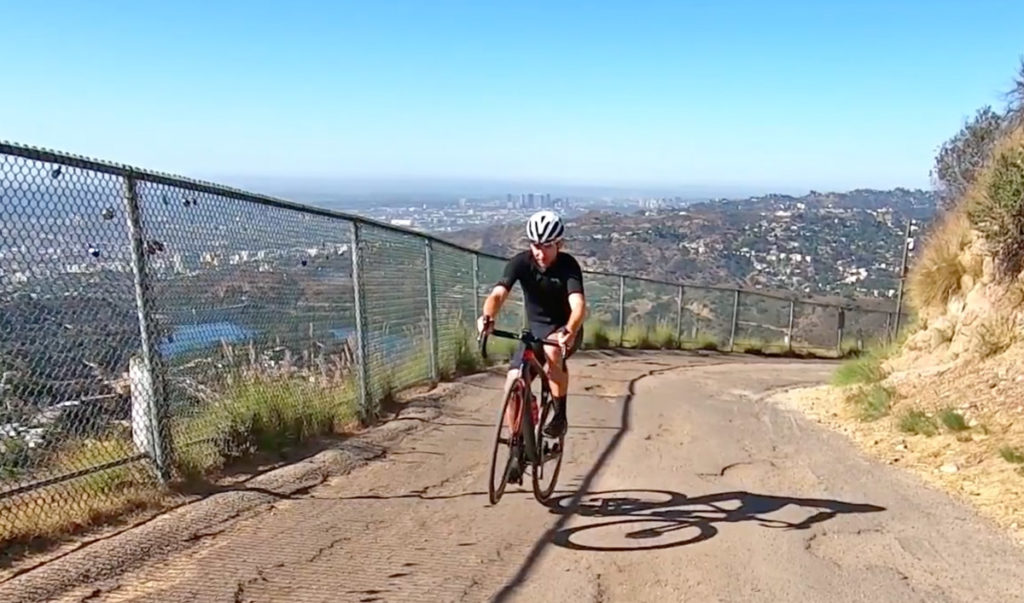 It's interesting how they would have built those grades a century ago considering the limited horsepower cars had back then, but maybe they were all about selling as much property as possible.
The other part is taking the dirt route is the simplest for not getting lost.
For all the times I've ridden up there, I barely remember the names of any of the streets, but once you find Holly Dr., it should be intuitive especially after watching the video.
Once the road dead ends, taking a right turn towards the sign seems right followed by a left turn with a sign leading you to the reservoir.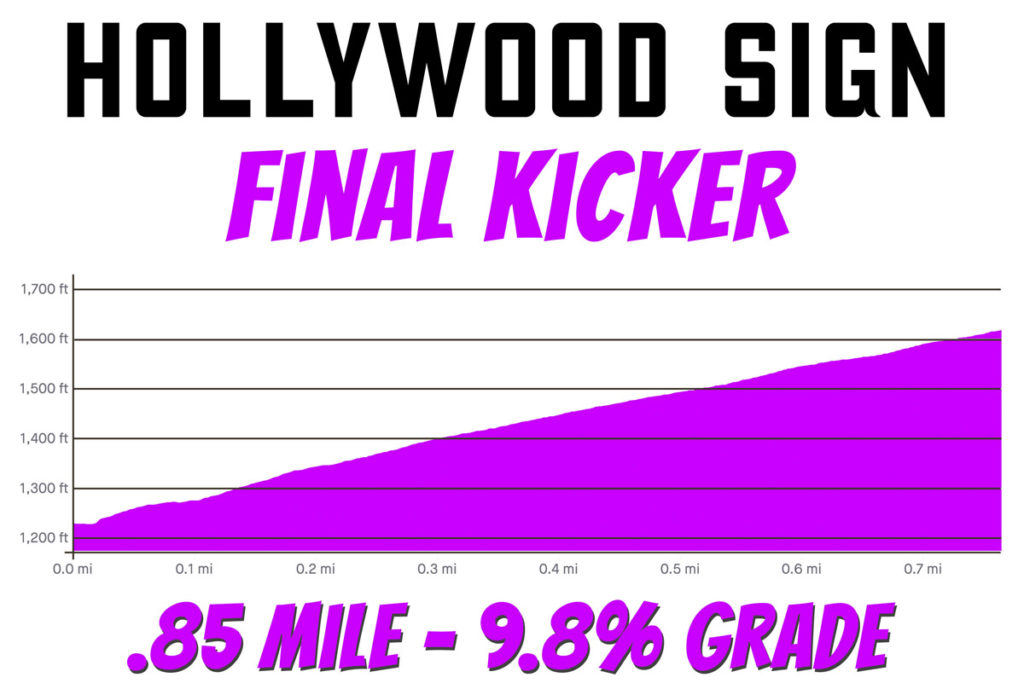 The dirt road is just off to your right and when it ends at Mulholland Highway, you just take that the rest of the way until you reach Mount Lee Drive.
I'm surprised the most that I haven't seen a tour company with e-bikes yet to pop up taking people to the sign (as I've seen them go up and into Beverly Hills).
While the peak is only at 1,625 feet, it still is properly situated that you get a great view in all directions where on a clear day you can see about ten million people worth of southlanders.
Biking the Hollywood Sign isn't the toughest of rides, but it's definitely a bucket list level ride that will raise an eyebrow when you tell your friends and family what a bike can do.