Finding Central Coast gravel is an experience every cyclist should aspire to.
San Luis Obispo County sits in the center of it and has a number of options abound with a few different terrains to throw at you.
Part of it is a seemingly endless supply of rolling hills carpeted in lush greens in the winter and California Gold in the summer.
While many visitors come to frequent for the southern beaches or Wine Country, the northwest corner is the gateway to Highway 1 leading up to Big Sur.
Cayucos is the perfect blend of all the county's features and serves as a proper focal point for riding whatever direction you head.
For us, we love climbing and right out of town, there is plenty to offer.
Our route ended up covering some of the dirt sections used in Eroica California, as we mapped out doing them in reverse to be going against the incoming wine tasting crowds at those hours.
Climbing Old Creek Road to where it changes to Santa Rosa Creek Road crossing Highway 46 is enough to feel like you've done a great ride and you can see why that loop along PCH is popular among road bikers.
But we're here for some Central Coast gravel!
Cypress Mountain Road comes at you fast after you start the downhill as it's just as easy to spot the dirt as it is to overshoot it.
It's just two kilometers to the top, but the view is the real treat of the ride as you get a nearly unblemished panorama of the coast.
There's still a lot of dirt on the other side of the ridge as the gravel is in near perfect condition making your way into Paso Robles Wine County.
Strolling through all the wineries at bike speed is the perfect pace to take all this scenery in, but with another 30 miles to go, we were eager to see more.
Templeton was our halfway stop which is a pleasant 19th century town that has a lot of local flair that might entice you to end your ride here.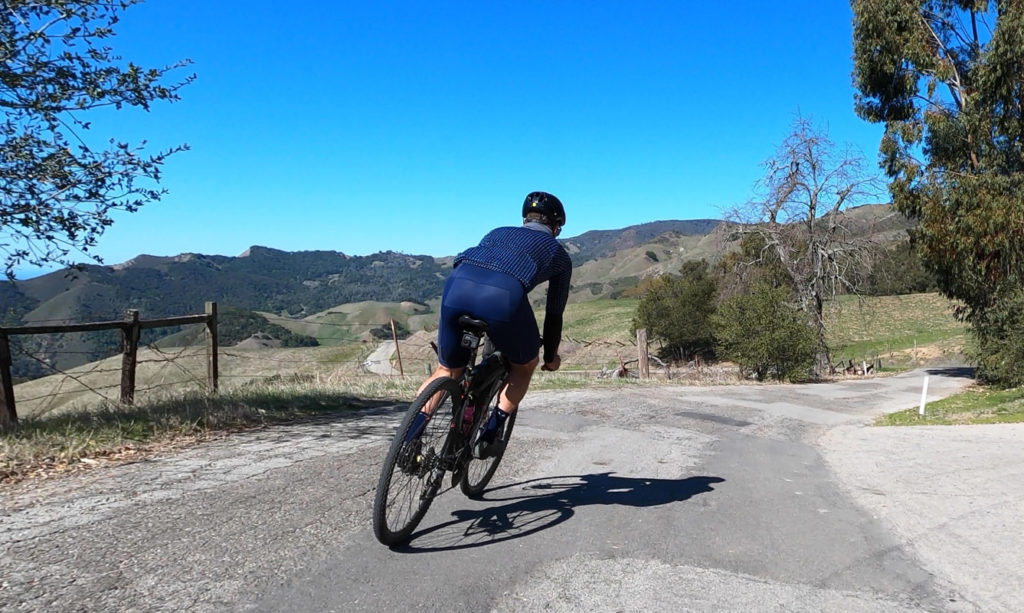 The return back to Cayucos though still looms as some climbing awaits.
Fortunately, the first seven miles up Santa Rita Rd only has a slight incline while the last mile and a quarter is only punchy in comparison that it sits at 6%.
You get your fair share of a payoff at the top with another view out to the ocean on top of a fun two mile decent you can easily rip.
The day starts to wind down as Santa Rita Rd turns to pavement and you return by Whale Rock Reservoir with a scenic water on water view.
We ended up returning an hour earlier than anticipated as the second half of the ride went fast leaving plenty of time for post ride activities.
This was a perfect day of riding and highly recommended to add to your itinerary of gravel rides, not just for San Luis Obispo County, but everywhere!