It's been really fun seeing the Send It Series expand to new regions each bringing their own character and Riverside Gravel was another welcome edition.
We've been to the Inland Empire before riding with the Redlands crew knowing somewhat what the terrain has to offer, but we're experienced enough to know each segment has its own flair.
First off, Riverside gets lost in the Southern California sprawl, even though at over 300,000 residents making it the twelfth largest in the state.
This relative anonymity allows the community to stay close to its 19th century roots building a citrus empire and the withstanding Victorian and California bungalow architecture.
Despite its growth, Riverside still maintains large pockets of undeveloped land which offers a lot of off-road goodness, not to mention all the smooth opportunities by the finely groomed orange groves.
Our route was curated by Andrew and friends from Gravel Pack Riverside which is a subset of riders from the long storied Riverside Bicycle Club.
Starting out of Arlington Heights Sports Park placed us in the south central portion of the city leaving us with a lot of options east and west.
After making our way along the historic Gage Canal, we headed up towards the El Sobrante region which offered everything that could be thrown at us, including big climbs, swooshy descents, swinging turns and momentum sustaining rollercoasters.
Riverside Gravel Double Loop: 40.9 Miles / 2,960 ft of gain
Coming off of Eagle Valley brought expansive views of Lake Mathews and soon completing our western loop we connected back along the canal for part two.
The eastern half not only held less elevation gain, but also more consistency on the grades meaning you didn't have to be so much on your toes for shifting.
It obviously wasn't an issue on an early hike-a-bike section, but the last few sectors of dirt qualified as playful even with a number of pathways that could have been chosen.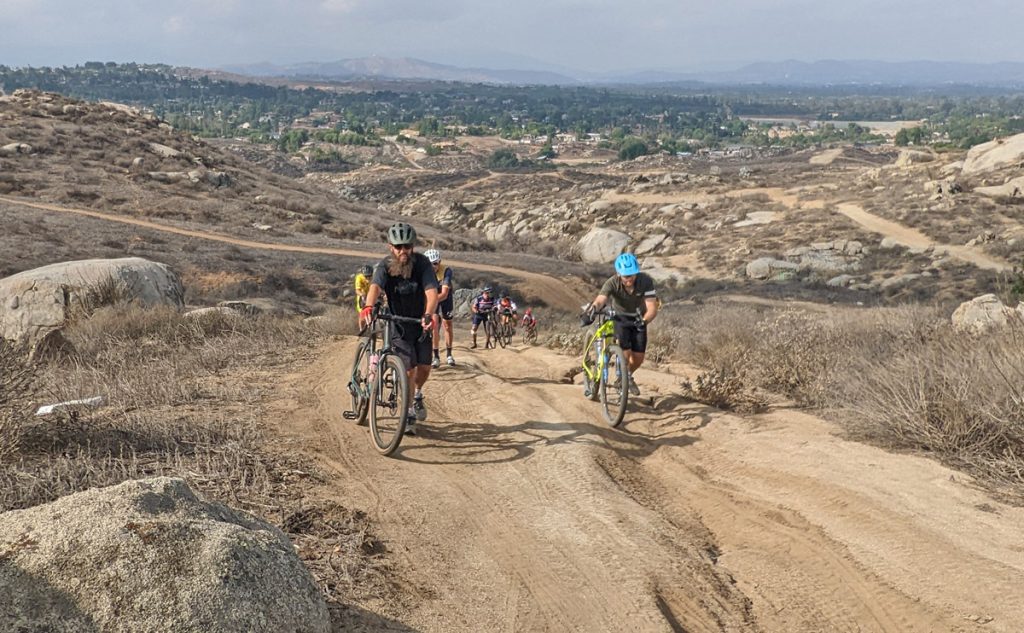 As a ride, you want to save the best for near-last as Sycamore Canyon Park was my highlight of the day with some flowy single-track which was comfortable for people to press no matter the skill level.
The last few miles went by quickly with our longest stretch on the Gage Canal and with good reason as Thompson Brewing more than hit the mark with its hearty pub fare.
Send It Riverside was another example of great riding enhanced by the locals adding their pride to it. Look for us to be back!!