Organizing our meetups does take an ample amount of time for planning, but being able to pivot isn't always a thing.
I had planned for our first Marin Send It to take place in January, pushing it back to June due to weather.
Thinking we'd be in the clear and rain hadn't hit for over a week, it looked like we were in the clear to do our Bolinas Ridge route out of Fairfax, but an accumulation of a heavy rainy season left the course muddy meaning we'd have to find another route.
Luckily, there are a number of great resources in the Bay Area and if you remember our Midpen Gravel Guide, I went back to Mike's robust knowledge to see if we could reroute while keeping our start in Fairfax.
As the birthplace of mountain biking, I should have known there was a backway (or ways) to Mt Tam and he put together this clockwise loop up Eldridge Grade that might have been just 27 miles, but was as action packed as possible.
The first three miles didn't set a proper precedent quickly zipping through San Anselmo and Ross along the previous route of the North Pacific Coast Railroad.
Entering Natalie Coffin Greene Park, circling Phoenix Lake and the 130-year old cabin signals your entry onto dirt.
The first left turn after passing the water brought us up the first three miles of Eldridge Grade sparing us the sharper pitches near the top of Mt Tam.
Mt Tam (Eldridge Grade): 27.7 Miles / 3,822 Ft of Gain
Our work around brought us down Indian Fire Road before renewing our pursuit of ascension back on Hoo-Koo-E-Koo.
After a steady climb, it was more of the same but of the familiar from our previous gravel guide up Mt Tam riding up Old Railroad Grade.
The stop at West Point Inn was obligatory before heading towards the East Peak eschewing the apex to hurry our way to more dirt down Ridgecrest.
We got back onto dirt on the beloved Laurel Dell although my previous experience in the other direction had more of that fun factor.
Hooking a left on Lagunitas Rd, we got back all the elevation we gained and almost too much averaging over 10% for more than two miles leaving our brakes a little heated along the way.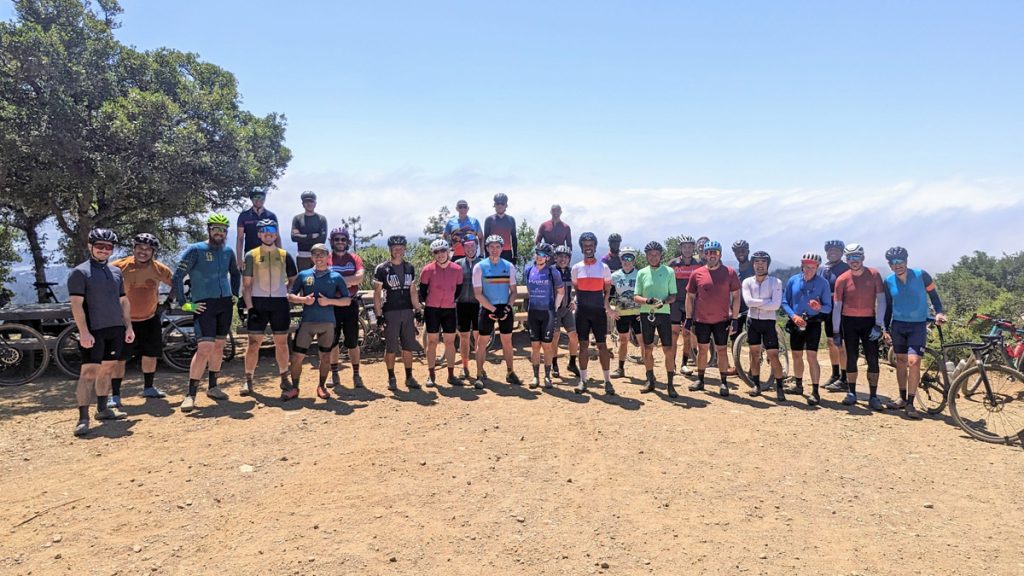 Is it heaven or West Point Inn? Both!
A flat reprieve waited for us at Lake Lagunitas and Bon Tempe Lake before a couple of short jaunts down Shaver Grade and Deer Park Fire Road brought us back into town.
The ride had a fabulous exclamation point ending at the Lodge that was overly accommodating to GBC, not to mention exceptional food and beer selection meaning we have another reason to return.
I'm floored whenever these Send Its happen away from my abode in just how fervent the energy is across the state with all the different experiences, people and places we have to offer.
Can't wait to do another Send It up in Fairfax…just waiting for the weather to be right again…