Our Send It series has been a lot of fun over the years and played a big part in our genesis.
We've had some rides take us to epic places to get away from it all, but you can have just as much of an adventure going into it too.
With peoplefirst thinking of beaches and Hollywood, there are a lot of misconceptions about Los Angeles as there a lot of nooks and crannies, especially on the eastside with many turn of the century ties.
Doing an LA urban adventure has always been on my bucket list, but when I noticed my proposed date coincided with Arroyo Fest I wasn't about to fight the alignment of the stars.
When you look back at maps from the late 1800s, two of the most populated areas were centered around downtown Los Angeles and Pasadena with some filling in along the Arroyo Seco.
In fact, a ten mile bike highway between the two was planned and only partially completed at the start. ofthe 20th century where some of the land was later used for the 110 Freeway with we were able to ride with thousands of other cyclists for Arroyo Fest.
While we covered almost all of this seven mile route, we exited in South Pasadena rolling through the number of hills through the area the first being Ascot Hills which was only recently made a park in 2011 and has some unexpectedly clear views of downtown.
LA Urban Adventure
After a lot of dirt climbing up and even more on the side streets down, within minutes we crossed onto another short peak with steeper pitches in Ernest E Debs Park emptying out onto a dirt descent by the Audubon Center.
Crossing back over the 110, we headed to the main attraction of the day in the steepest street in LA (and 4th in the US) in Eldred St. tapping out at 33.3%.
Modern engineering wouldn't allow a design like this anymore, but that didn't stop our crew from trying to tackle it even with century old cracks to contend with.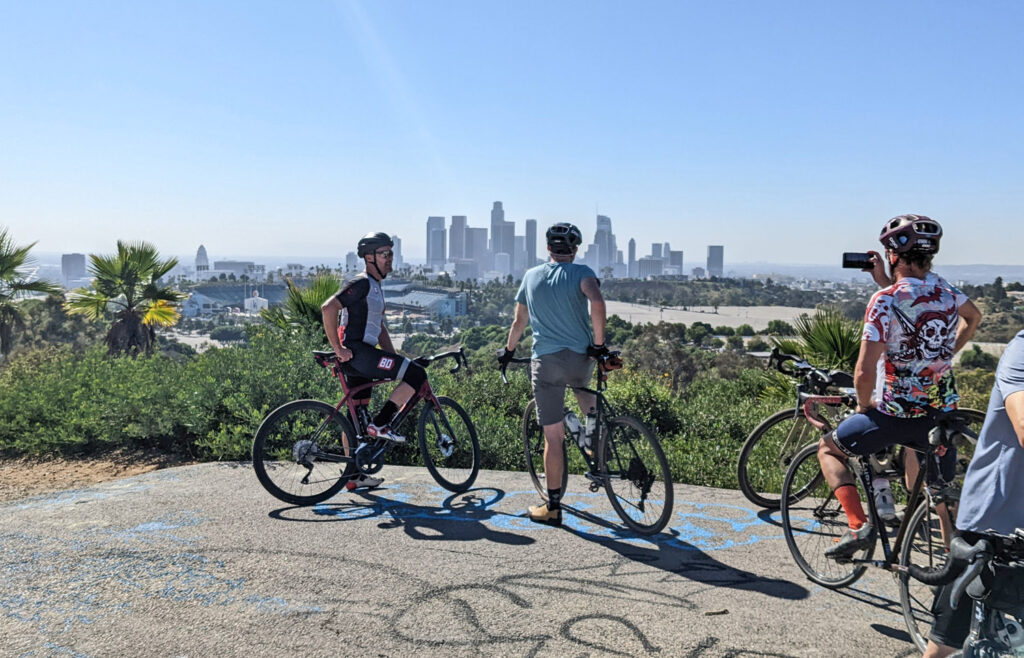 With a brief stop over the site for the short lived Mount Washington Railway funicular, we had one last climb into Elysian Park, technically LA's oldest, with one of the best views in the city hovering over Dodger Stadium and downtown's skyscrapers as a backdrop.
Finishing off, Frogtown Brewery had plenty of space for our crew even with a number of festivities abound getting a total thumbs up from this crew.
The biggest win of the day was from a lesson I learned when we had to audible for our Bolinas Send It to be mostly road that is doesn't how much dirt is in a gravel ride, but adventure should always be the proper gauge.