I'm an opportunity seeker and it's far easier when you have prior experience to help guide you.
Last year, I got to ride Butte Meadows above Chico with Medhi organizing taking us into the vast Lassen National Forest leaving with the feeling there was so much more to explore.
Knowing I was coming through town, I didn't hesitate to ask again for another outing as he assembled a strong crew of riders starting out by Kären and Mark's place this time starting lower on Highway 32 out of Forest Ranch.
Sometimes riding through a forest can feel monotonous when you're up against a heavy density of trees, but this 36 mile route had so much variety you feel like it was a few different rides combined into one.
We started and ended mainly along the highway finding parallel options to avoid speedy traffic on both accounts with even a little gravel mixed in even with more homes mixed in than you'd think.
Heading in a general east direction, we took Schott Rd that was a playful introduction slaloming through the trees remembering not to get too confident with passersby coming in the opposite direction.
Our first lead sector of dirt came descending Doe Mill Road that was wide and smooth enough giving plenty of space to you to choose your line when bumps did occur.
Reaching the nadir is clearly a stopping point crossing Butte Creek with fantastic competing views on both sides of the bridge.
As I just hinted, there obviously was climb out feeling faster than the 7% grade over two miles would suggest.
Rolling into the Forks of Butte Recreation Area, we almost backtracked on a road that doesn't show on Google Maps for a mile for one of the most pleasant surprises of the day riding alongside the Butte Creek Canal.
This flume has been in service since the gold mining days with a smooth dirt carpet aligning where despite the fun, you still have to think about not falling into the water.
We crossed back over the trailhead again continuing the flume flow exiting to a u-turn onto Skyline Rd quickly veering onto a shortcut on Hupp Coutolenc above Paradise Dam to our next sector of dirt.
Pacific Doon Rd highlighted the mix of different dirt we faced going the full spectrum from light grey to dark brown with a tinge of red in this section suggesting a wide diversity of geology within a relative short amount of space.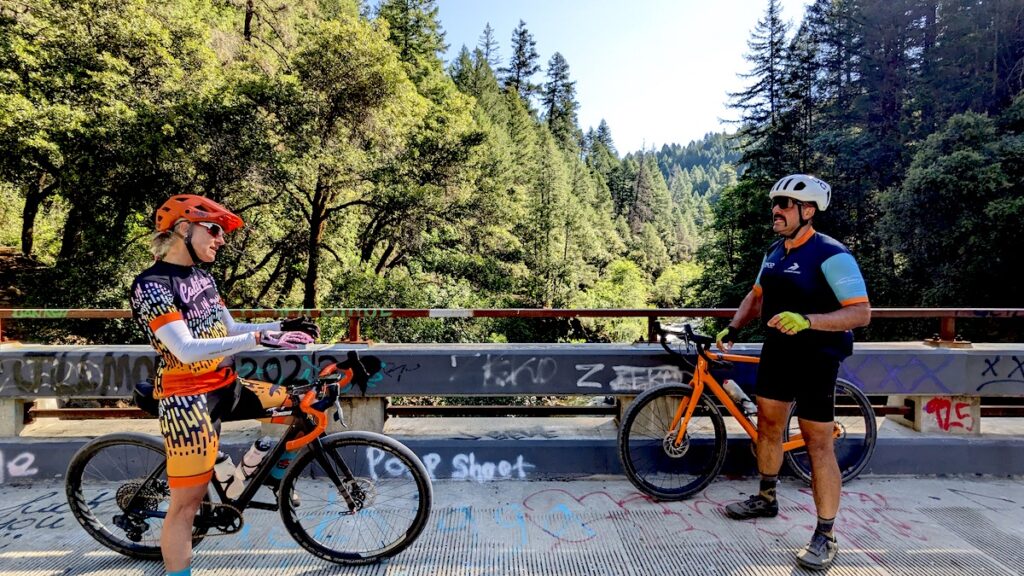 After the climb started bumpy, the rest of the road smoothed out soon rolling into the long established enclave of Lovelock with the inn being the center of attention unfortunately closed.
Heading back on Skyline, it was a lot of backtracking all the way to Doe Mill Road which didn't feel like a repeatable experience flipping the elevation profile with a different type of fun down to Butte Creek, but the climb out being our longest veering right onto Garland Rd for an extra four hundred feet of altitude.
The last couple of miles of dirt took us back into the highway and if you don't pay attention enough, you'll miss the surprising amount of homes tucked back into the trees.
My Forest Ranch gravel experience once again had a playful balance feeling romantically alone without the isolation making you absorb so much more than the milage reveals.