If you want a gravel playground catering to all, you won't get more bang for the buck other than Point Mugu State Park.
While part of the vast Santa Monica Mountain range, cycling wise the park is cut off from the rest of it as the trails heading east do not permit bikes.
Still, it's a great place to go because of the great views, favorable riding conditions and cooler temperatures everyone will appreciate.
Point Mugu State Park isn't that large compared to some of its neighbors, but there are a lot of trails packed in here.
I tried breaking it down by trails and color coded them all for easy reference as it may take you a couple trips there to catch your bearings.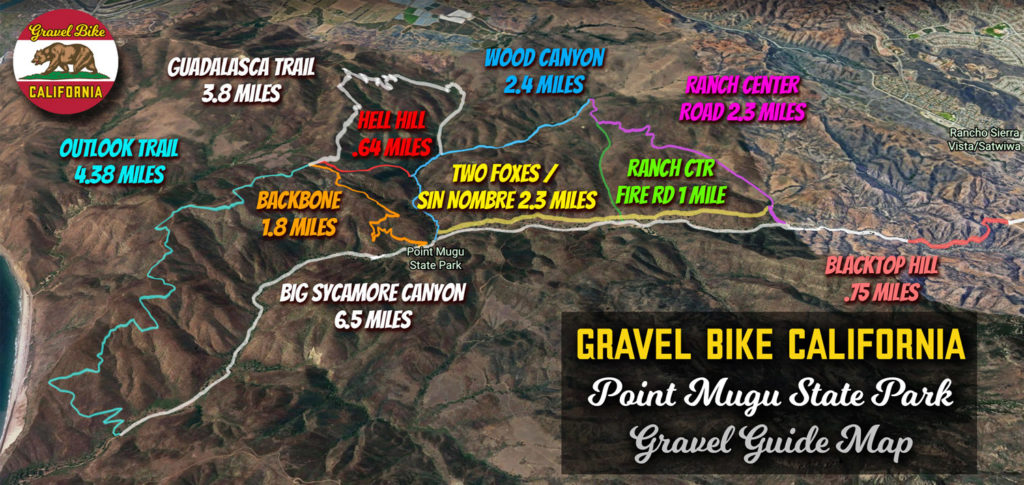 In the video, you'll see many of the trails highlighted, but I left out the western edge of La Jolla Canyon Nature Preserve as that area is often overgrown or extremely difficult to gravel.
Here's a breakdown of many of the smaller segments starting from the easiest: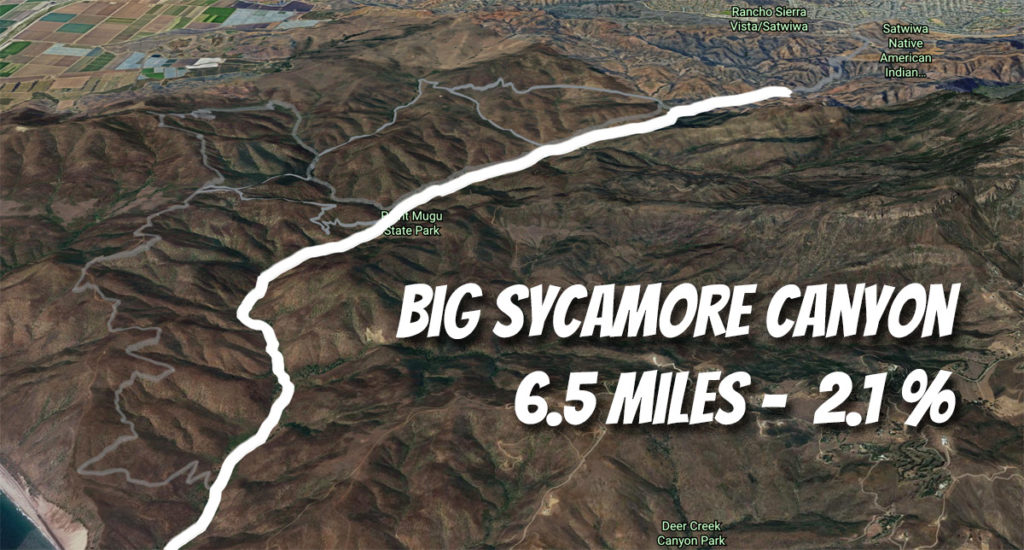 Big Sycamore Canyon
Difficulty Rating: 2.5 out of 10
6.49 Miles, 2.1% Elevation
This wide fire road serves as the heart of Point Mugu State Park perfect for all types of riders.
The bottom half is dirt while the top is paved, but there's a couple shaded places to stop for those wanting to venture on.
While doable even on narrow tires, beware of the water crossings that occur during the most part of the year.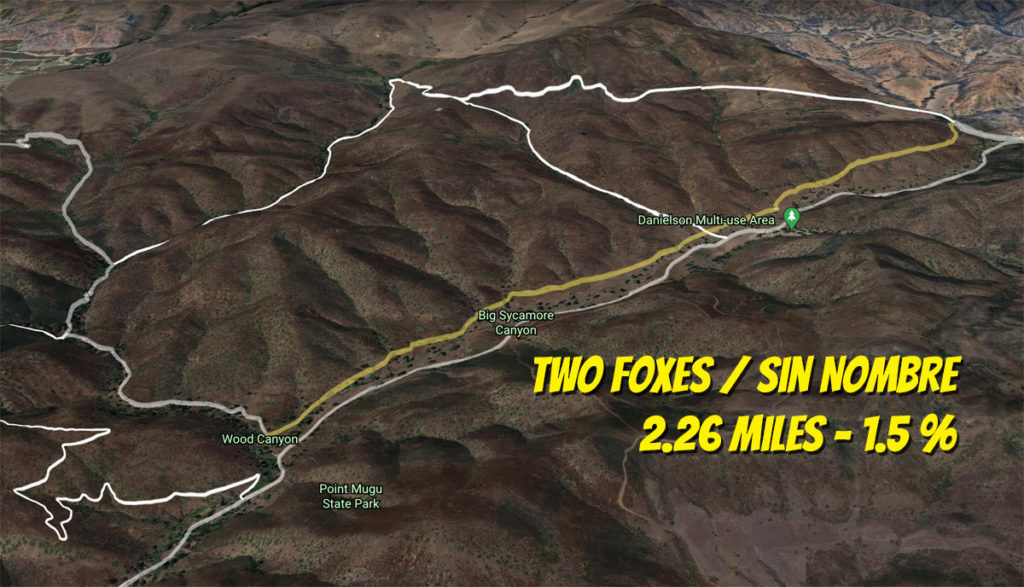 Two Foxes / Sin Nombre
Difficulty Rating: 4 out of 10
2.26 Miles, 1.5% Elevation
Paralleling Big Sycamore Canyon, these two connected trails are fun in either direction.
It's single track along with some rolling action, but you can't ask for more if you're looking for some roller coaster action.
Beware a couple of dips, oncoming riders and a little pitch on the northern end, but you'll be glad you did it.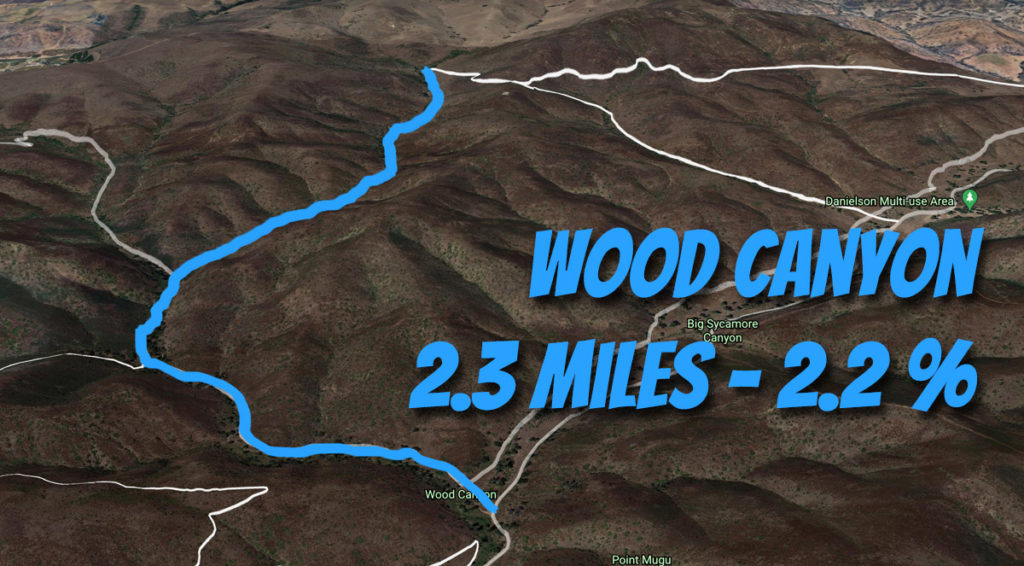 Wood Canyon Trail
Difficulty Rating: 4 out of 10
2.38 Miles, 2.2% Elevation
The shear definition of a back trail that follows another creek feeding into Big Sycamore Canyon.
It's the easy route to get to the Guadalasca Climb, but continuing on you hit a T being Ranch Center Road.
This intersection carries some abandoned artifacts, but the turn to the left is a dead end while to the right is a short, punchy climb out.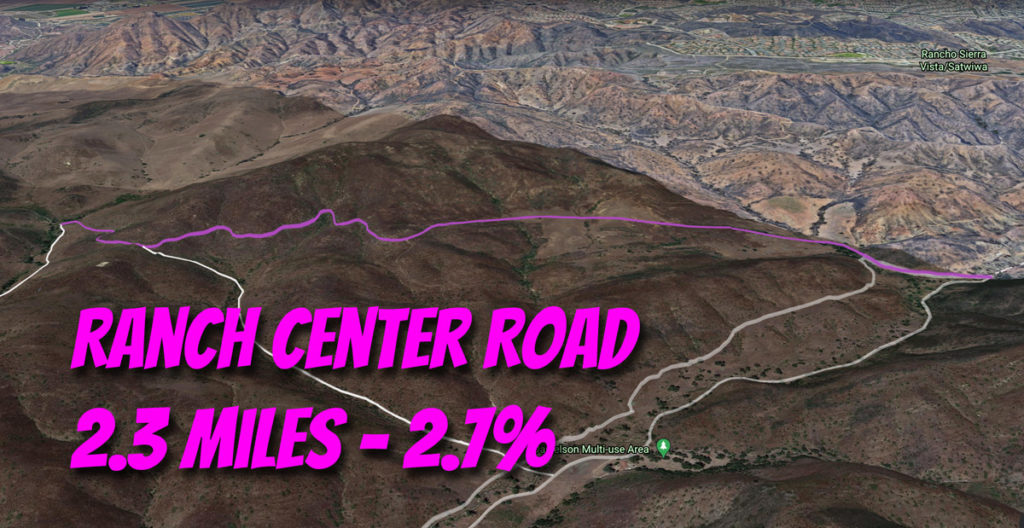 Ranch Center Road
Difficulty Rating: 5.5 out of 10
2.33 Miles, 2.7% Elevation
I typically take this road as a warmup before Guadalasca as the first mile and a half averages 4.5%.
It's definitely far open to give a sense of the landscape, but as it intersects Ranch Center Fire Road, the path becomes more wavy.
Beware on the descent as I've had a bottle or two pop out here.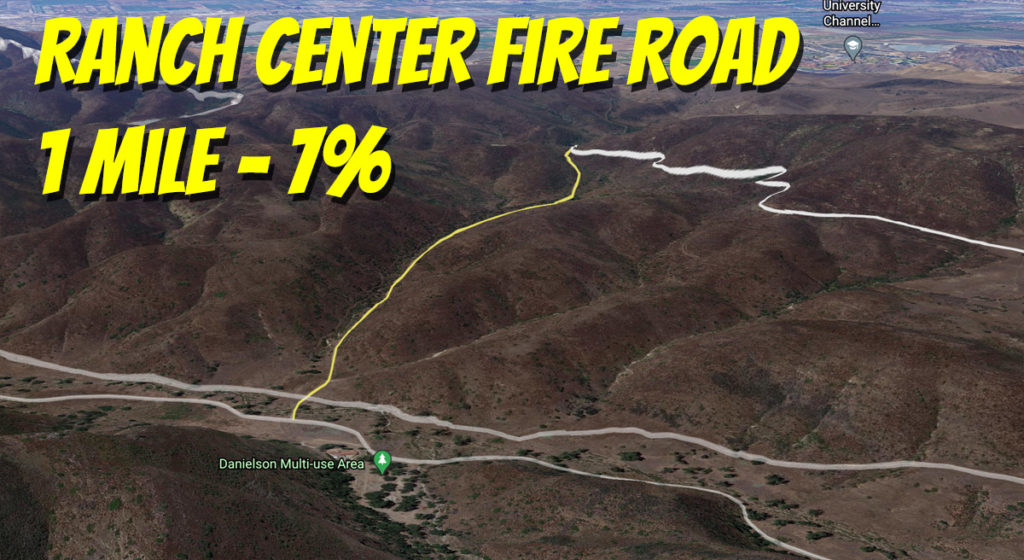 Ranch Center Fire Road
Difficulty Rating: 6.5 out of 10
1.02 Miles, 5.9% Elevation
Not a lot to write about other than this being a straight shot up.
Most of it actually averages 8%, so it's a short but sturdy grind.
Probably one of the least exotic options here.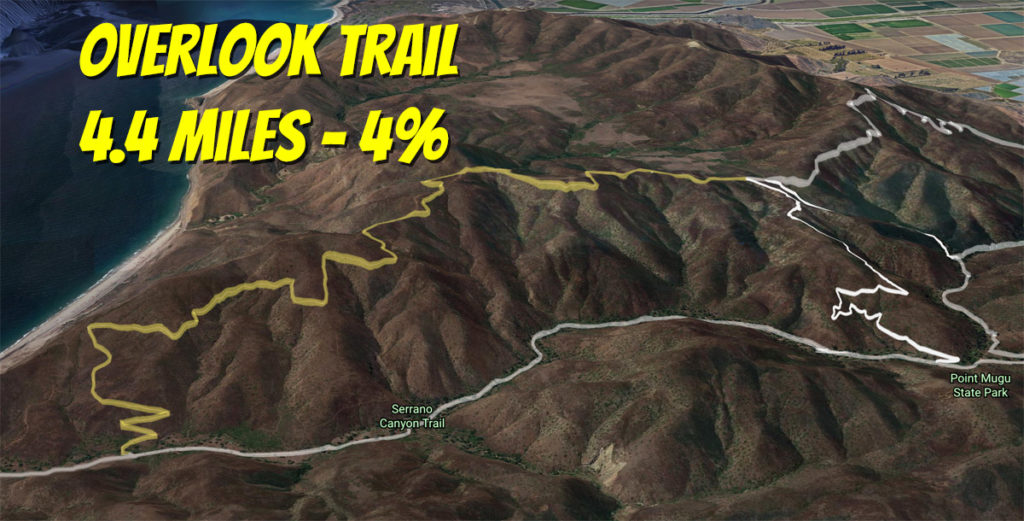 Overlook Trail Climb
Difficulty Rating: 6.5 out of 10
4.4 Miles, 4.1% Elevation
In the video, I covered this as a descent, but you'll find many mountain bikers use this climbing to reach Guadalasca or the Backbone single track.
Except for the last mile, Outlook averages over 6% so be ready for a long sustained climb.
Technically, part of this trail also serves as Backbone before it takes it's final dip where cyclists are prohibited to ride towards the Pacific Ocean.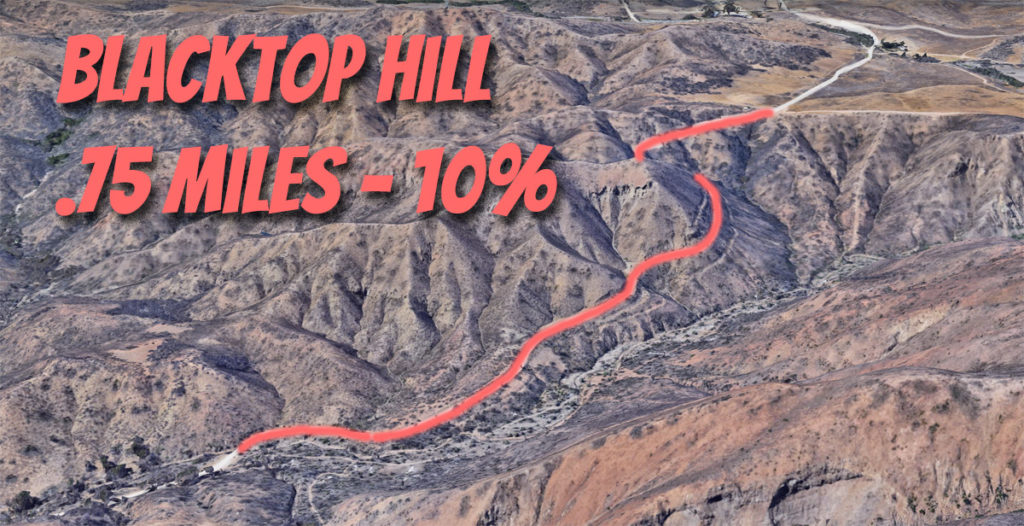 Blacktop Hill
Difficulty Rating: 7 out of 10
.75 Miles, 10% Elevation
Not really an option, but forced upon you as the only way out to the north.
The best thing going for it is that it's paved, but odds are you've emptied the tank a bit before taking this on.
Beware of riders barreling down.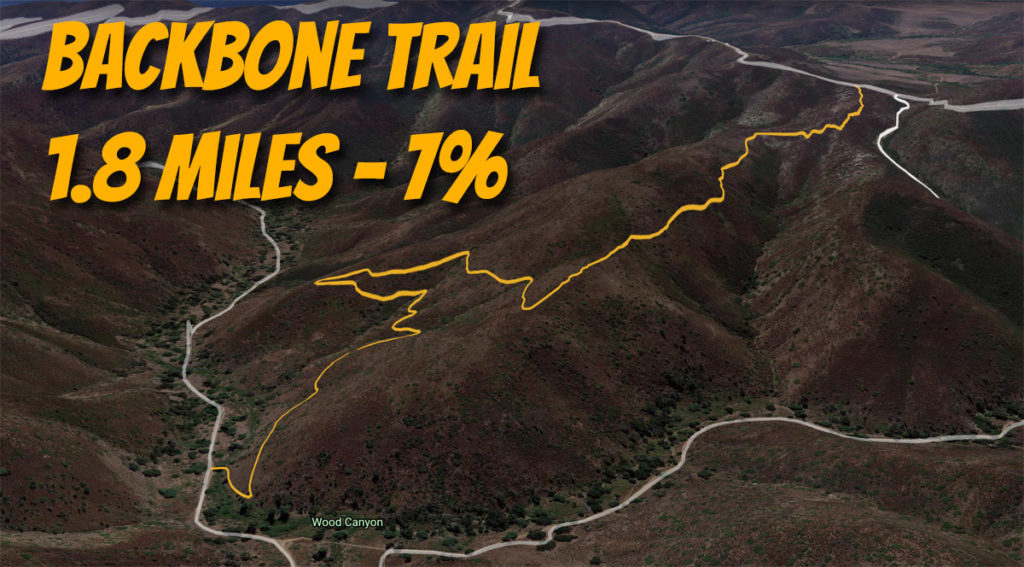 Backbone Trail Single Track
Difficulty Rating: 7.5 out of 10
1.82 Miles, 7.1% Elevation
While a mountain biker's downhill delight, descending on a gravel bike is for those with more technical skills.
Climbing it would be for those of us with drop bars, but still you're going to be in for quite a grind as you'll find a lot of portions lingering around 10%.
Beware on weekends as this trail flows enough that you'll find many barreling down on the weekends.
(Learn more about the Backbone Trail here.)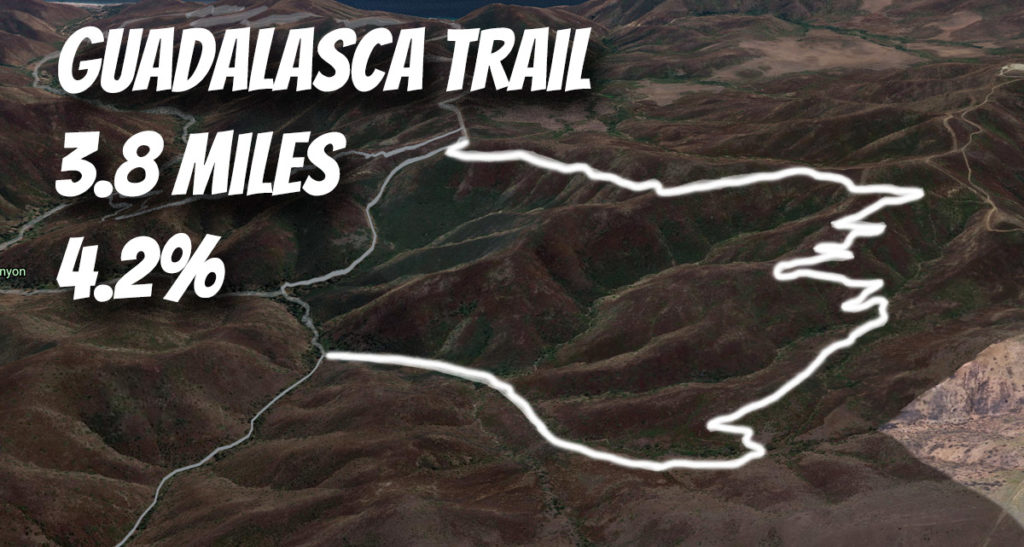 Guadalasca Trail
Difficulty Rating: 7.75 out of 10
3.77 Miles, 4.2% Elevation
Definitely start off of Wood Canyon because descending the heart of Guadalasca is extremely difficult on a gravel bike.
The main climb is 2.4 miles averaging 7% where you'll battle rockiness, sharp turns and quick pitches that'll keep you on your toes.
Be careful heading downhill towards the Overlook Trail as it's easy to pick up speed under some loose conditions.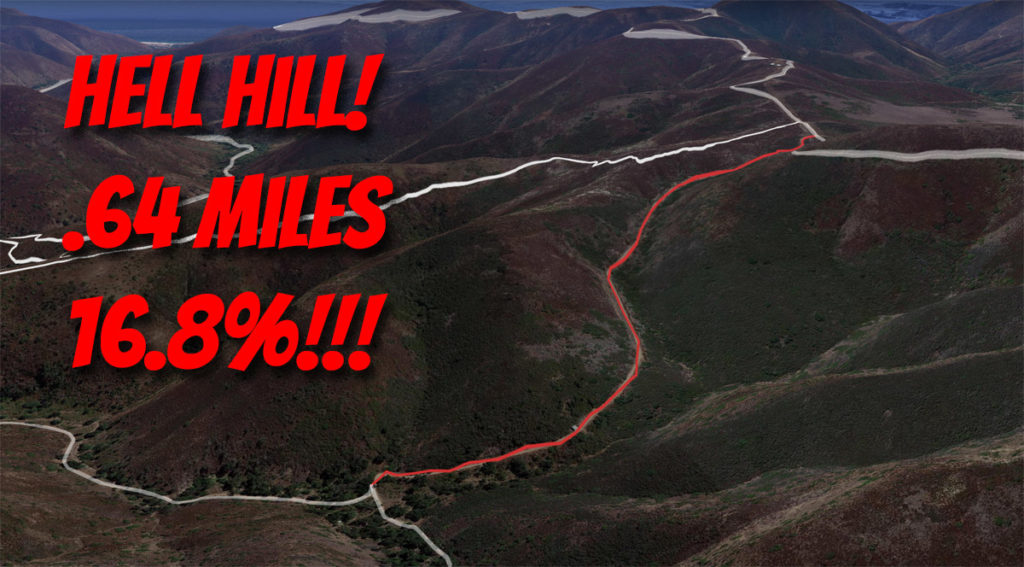 Hell Hill
Difficulty Rating: 9 out of 10
.64 Miles, 16.8% Elevation
Appropriately named, this is a climb you'll be tempted to do once then never again.
You have to question the engineering of a road like this as it seems unsuitable for vehicles, let alone cyclists.
At least you won't have much competition riding it.