If you're one of those people who wonder if distant day trips to far off places like Big Bear are worth it, the answer is yes!
A few months ago, we were searching for a high mountain experience in the San Bernardino National Forest just west of here riding Pilot Rock / Cleghorn Pass.
That didn't go so well, but I knew there was some great riding up there so I always kept an eye out.
Big Bear gravel was always on the radar, but it was a two hour drive so I had to be more sure than our last trip.
Every once in awhile, someone would post a ride up there on our Gravel Bike California Facebook page, but not enough intel to be totally sure.
Enter GBC savior Todd, who already has been invaluable with his video tips that have definitely helped me up my game these last months.
It turns out, he also has a cabin up there and we started bouncing ideas back and forth.
The north side of the lake just looked awesome, especially the possibilities in Holcomb Valley.
While I had no doubt about how epic it would be, the schematics made it look like a thirty mile loop at most which is far for a day's excursion.
To add miles, I looked to the south where I've always been curious about Skyline Road, especially doing a loop out of Angeles Oaks, but information about its condition has always been dubious.
Part of the issue in asking around was the confusion between the Skyline Trail which is single track and more geared for mountain biking versus the parallel and lane wide Skyline Road.
Some people said the Road had some choppy conditions, but after our Pilot Rock excursion what could be worse?
The scenery was all that we hoped for from the start being surrounded by trees and enjoying the fresh air.
As for the surface, it was clearly well above average and anyone who complains has my stamp to call them a curmudgeon.
Our biggest problem was adjusting to the elevation.
It isn't so much how high I ride, but how quickly I gain it and if I'm gaining 6k+ feet in a half hour, that's going to make me feel loose once I get onto the bike.
Along Skyline, we were flirting with just under 8k most of the time, but it was such an enriching experience that the adrenaline helped cancel it out.
It was such a great first half, it did cross our minds that we could end the ride on a high note, but we came all this way and Holcomb Valley held so much promise that it was easy to scatter those thoughts.
We met Todd just south of the airport and even though it was our first time meeting in person, he was just as gracious in real life.
He had definitely spent time on this route and was well-versed with its intricacies even though this route can also be enjoyed straight forward.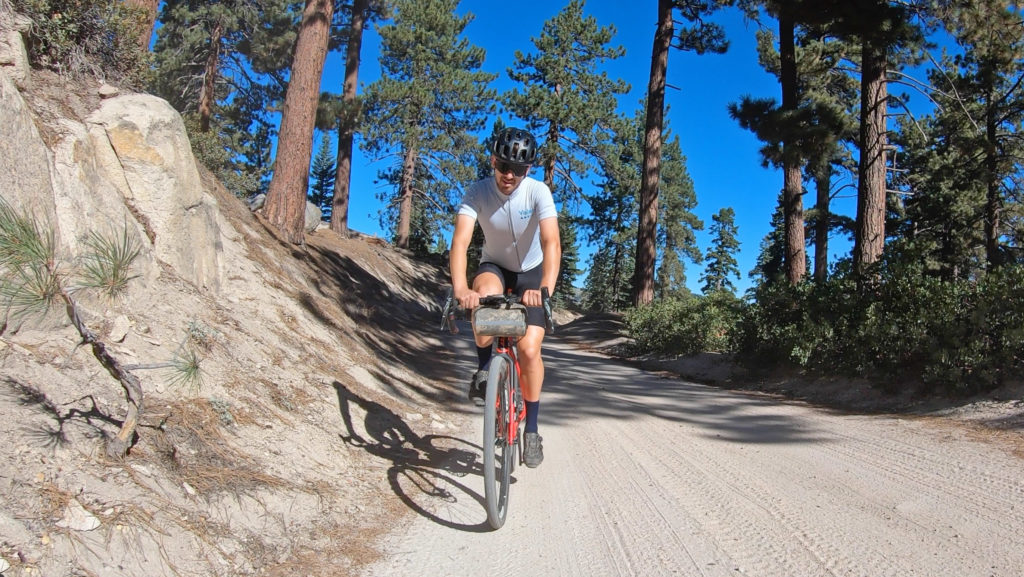 The climb up Van Dusen Canyon is tame and perfect if you're a beginner looking to get something memorable under your belt.
This intersects with Holcomb Valley Road which is part of the Gold Fever Trail where only a few artifacts remain from the largest gold strike in Southern California history.
Exploring the history alone is worth the road trip, but the scenery further west raised the bar above the ceiling.
Todd warned me, but coming across the farm stretched out on the open glade was a Kodak moment.
We still had some work to do with a couple of short, punchy climbs, but getting some elevation back gave us another perspective on the lake and mountains.
There's still other possibilities in the hills, but just note that your ride will take extra time because just so much to stop and see.
Big Bear gravel is a thing and you're not going to regret going.