With all the riding I've done in the Santa Monica Mountains, it's hard to fathom that this was the first time I've ridden Puerco Canyon.
The climb itself is short at just over three miles, but while it doesn't occupy much real estate in the X Y direction, it's the Z that'll get you.
While the numbers tell you it averages 9%, if I tell you there are a couple of dips thrown in there, you know you'll be battling some strong double digit grades along the way.
If you're a glass half full type of person, you do get some great views early because of this extra elevation and it shouldn't take all day to intersect with Mesa Peak Motorway / Backbone Trail.
I imagine you're not going to travel all this distance to do a seven mile out and back, so once you cross with Backbone, you have the option of heading east or west.
This is the area I'm familiar with it served as an introduction to trail running to me doing my first dirt race the Bulldog 25K.
While I've ran this a few times, doing it in the opposite direction and with my vision focused on not tripping on rocks, this felt like a new experience heading west.
There's still a couple of climbs you'll have to work on here, but the payoff is the rock labyrinth near the top which somehow I never noticed while running.
Moving forward, staying off of Backbone is the move as it covers a lot of rockscape, but even with a couple of slight sandy sections, it's the much better choice.
Reaching Corral Canyon, we could have just descended it to PCH and called it a day, but we were still at single digits on miles, so we continued north.
Taking Bulldog Motorway down is something you're not going to want to do going full gas, but it's a much better option that climbing as some of the loose conditions adds to the sufferage.
What I learned on this loop was that technically Bulldog MOTORWAY doesn't continue to the M*A*S*H site (that's Bulldog LATERAL) and instead takes you directly to Lake Malibou.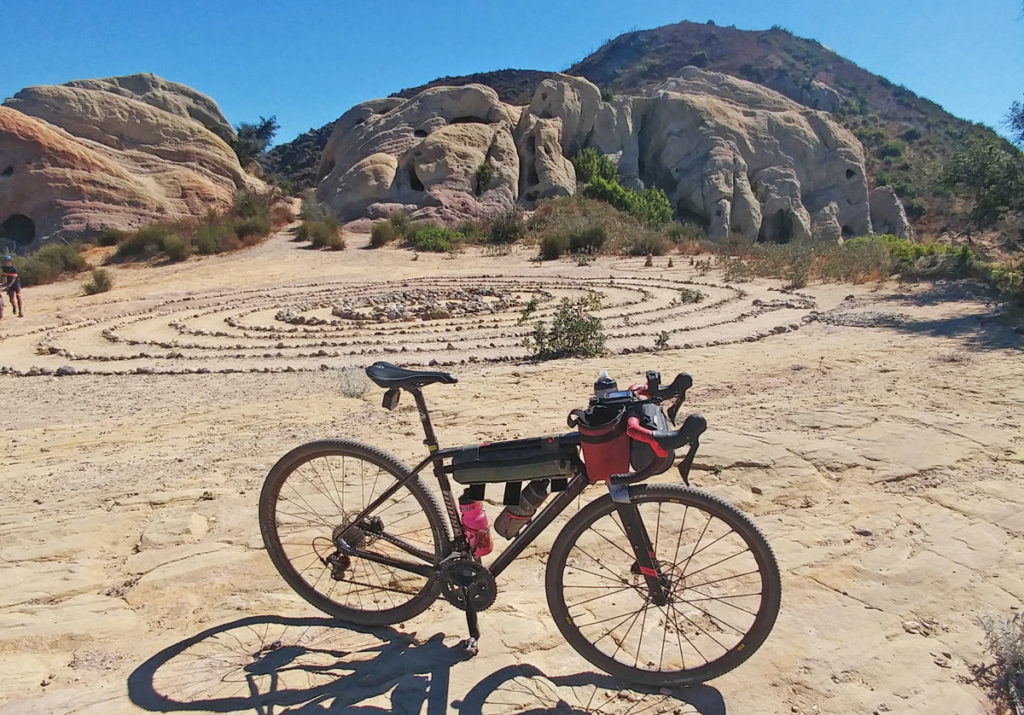 We stopped at the Old Place in Cornell which reliably has water amazed we had put in only a little more than a dozen miles.
While we could have backtracked into Malibu Creek State Park or Mulholland to the east, that would have meant taking Las Virgenes Canyon back which is a bit hairy on a bike.
Instead we headed west to Rock Store where we tackled the climb featured in the final stage of the 2014 Tour of California.
Because of the Woolsey Fire, the road feels a little like doing gravel as it is shut off to vehicular traffic with a couple sections impacted by dirt.
Still, don't get lulled by this being a closed road as there's a good chance other cyclists will be flying down.
Reaching Kanan Road, we headed south to Latigo Canyon which is an epic road and takes on its own character either north or south.
Other than a couple of sticky mile climbs, it's so much fun coasting around the curves with a panorama of the ocean ahead.
Once we hit PCH, it was a short couple of miles back to the start, but even though we put in under thirty miles, by the time you finish your loop back at Puerco Canyon, you kinda forgot you've ridden it.