Challenge me on this one, but there's no greater road that serves as an accessible gateway than the Angeles Crest Highway.
Hovering over Los Angeles, this 66 mile highway is a true escape from urban life just minutes away from millions.
Historically part of Highway 2, the moment you enter the Angeles National Forest you wonder how this Eastern Sierra backdrop got here.
While it's tough to cover the entire length (considering you'll also need to figure out getting back), most cover the main first segment from La Canada Flintridge to Clear Creek Station for a number of good reasons.
With over 40k completed climbs and counting on Strava, this nine mile stretch is almost all climbing, hits a clearly defined intersection and is a welcome place to stop for water and bathrooms.
Once you go deeper on Angeles Crest Highway, the more remote you feel.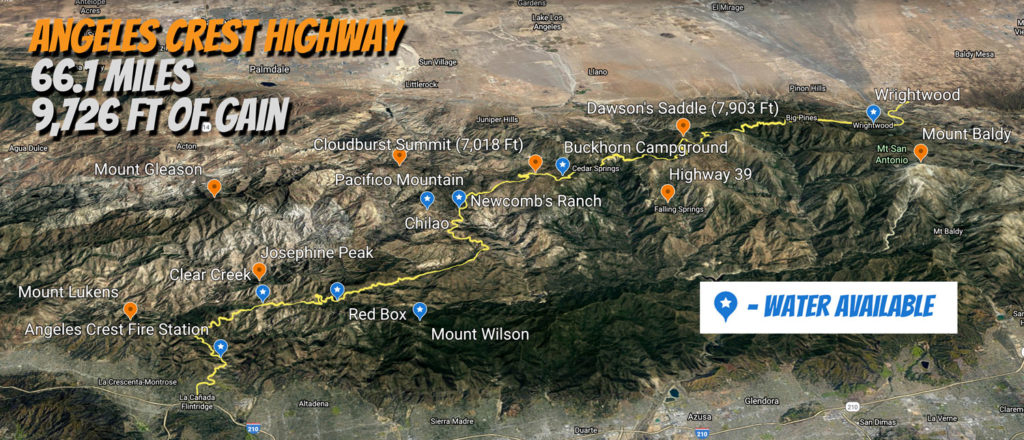 Part of it is avoiding the traffic from those who also turn off onto Angeles Forest Highway for their commute to Antelope Valley.
For the rest of us though, heading east is the bigger payoff as you head towards mile high elevations.
Right off of AFH, Josephine Peak provides a dirt option that's one of the toughest climbs in the mountains.
Just under four miles, it punches above it's weight with rocky introduction at over 10% which will lead you to reconsider your choices.
If you tough it out in the first mile, the switchbacks are the gem of the climb not just for its great condition, but also the opportunity to not get comfortable with just one view.
About two-thirds of the way up, it should be clear to head to your left up towards the peak as it's right to pause to take in the expansiveness of the San Gabriel Mountains as looking towards landscapes with a southern exposure gives a different feel.
Since you've already put in enough of an effort, reaching the top takes longer than you think, but having to hike a bike the last few feet to reach the peak is definitely worth it.
If you spend enough time in the Angeles National Forest, you start to connect the dots between all the crests and trail to get a real picture of where you're at, but Josephine Peak is special because you're in the middle of it all.
Unfortunately, not a lot of cyclists have tackled this climb as most cyclists continue east as normally you'll see primarily road bikes reach Clear Creek.
For those craving more pavement, continuing on the Angeles Crest Highway leads to the Red Box turnoff five miles away branching off towards three worthy options of Mt Disappointment, Mt Lowe and Mt Wilson Toll Road.
The next 19 miles you overall gain 2,300 feet to reach Cloudburst Summit, but there's an extra 1k worth of climbing as there's a few flip-flops built into the ascension.
Early on, you can cut down Upper Big Tujunga Canyon where you can do a 26 mile loop around Angeles Forest Highway back to Clear Creek.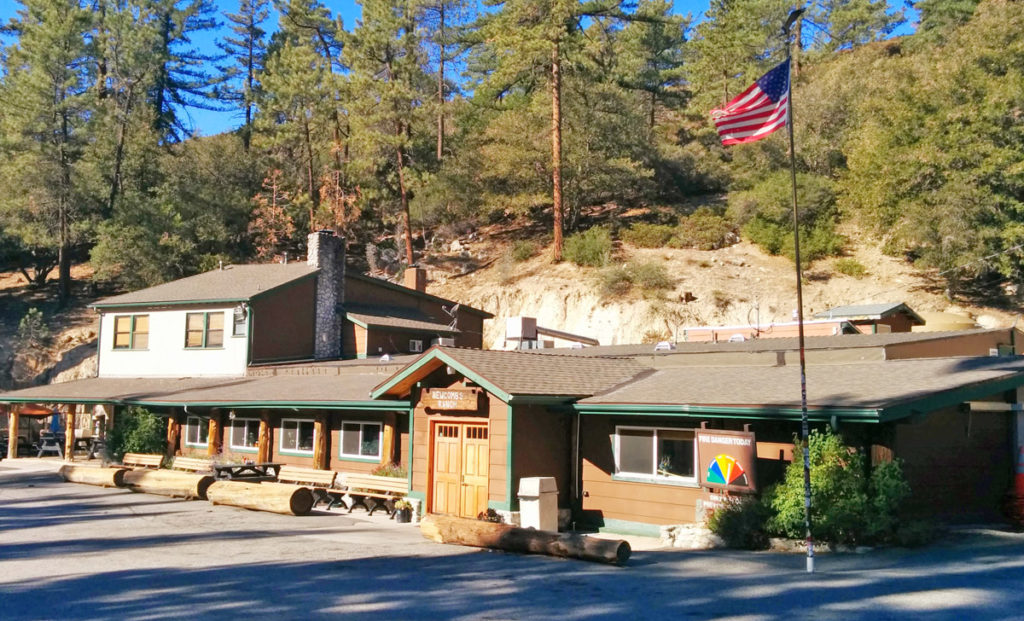 Past that there's a dirt shortcut of around three miles up to Mount Mooney that exits you near Chilao which leads to another popular gravel segment towards Pacifico Mountain.
Right past the campground, you come across Newcomb's Ranch which is a popular spot for motorists especially on the weekends.
It's past this point where Angeles Crest Highway gets real special as a product of its beauty and a feeling of isolation as most vehicular enthusiasts turn around here.
From Newcomb's Ranch, it is another seven miles of straight vert until you reach Cloudburst Summit, but the isolation and added forest coming from the elevation takes this beauty to another level.
Coming off of the summit takes you by the occasionally opened Mount Waterman ski lifts as you descend into cooler air around Buckhorn Campground, the last reliable spot for water before reaching Wrightwood (see map for locations).
As the highway flattens out, you go through the only tunnels of the route before getting a view down towards the (ahem) closed Highway 39.
At this point you pass Islip Saddle that starts a 14 mile stretch that's my favorite of the ride.
You begin with a five mile climb to the highest paved point in Los Angeles County at Dawson's Saddle (7,903 feet).
Along the way, you get these large sweep views that provide not only a panorama of the forest and Antelope Valley, but the Eastern Sierras as well.
The following descent matches the climb in length, but is my favorite part to catch speed feeling like you're on the edge of the earth even though you're well insulated from taking a leap.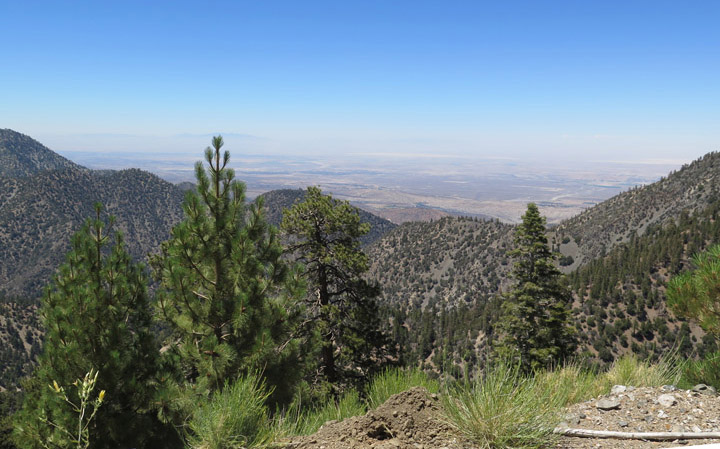 A good part of the year, you'll either see snow or volumes of water coming down the north face of Mount Baden Powell, but I take in the sites on the return climb up.
You quickly transition back upward with a three mile climb to Blue Ridge Summit (7,360 feet) which feels short as you extend towards the shadow of the biggest peak in the county Mount Baldy.
It's definitely worth a moment to take in the views where it's another six miles down to reach the town and plenty of eating options in Wrightwood.
Most people turn around here with five miles left on the highway as it's a full day already, but some continue east on Lone Pine Canyon Road for a flatter loop around the mountains or return on Amtrak.
Even if you subtract the dichotomy of this forest against suburbia below, the Angeles Crest Highway is an essential ride for all cyclists to immerse yourself in a getaway like no other.