Gibraltar Road clearly belongs in the list not only for the greatest climbs in the state, but the country as well.
You can argue about its length or toughness, but the setting is a factor that helps tip the scales.
Already starting at an elevation of almost 900 feet, you still get a prime view of the Pacific Ocean the majority of the way which sets it aside from other ascents in California.
It has always felt longer than its listed 6.1 miles, but the 8% average and visual distractions have a lot to do with that.
This loop is exceptional enough that I've driven up many times, but that has only been on my road bike.
I knew there was dirt on the other side of the ridge, but the laws of probability suggested the added miles could not match what's tried and true, but I'm happy when the long odds prove me wrong.
After Gibraltar Road merges with East Camino Cielo at the top of the climb, it indiscriminately veers off a half mile later clearly for an off road adventure.
It starts out with a seven mile descent with not only great fire road surface conditions, but views across the Los Padres National Forest that clearly defines you as just one layer in the fabric of mountains.
The Gibraltar Dam meets you at the bottom where it's been serving the Santa Barbara area in various forms for over one hundred years.
You have another three miles of dirt following which involves some climbing, but it exposes you to these exposed rockscapes in a new perspective.
The fire road then spits you out for four miles of pavement which is a nice opportunity to catch your bearings before the next big climb ahead.

Arroyo Burro Road is a steady 5.3 miles averaging 6.9%, but even factoring in its above average surface conditions, it's on par with Gibraltar Road in terms of effort.
If you are low on water before tackling the climb, continue west on Paradise Road for a mile until you reach Lower Oso Campground before returning to Arroyo Burro Road.
It's a different feel climbing mostly into the sun, but luckily it swings around enough to get views of all your surroundings.
At the top, you again reach East Camino Cielo where you reconnect with the popular road bike loop albeit with another mile and a half of climbing.
Finally, you get to cash in that climbing reward by a fun, ridge-riding two and a half mile descent flipping between views of Santa Ynez and the Pacific Ocean.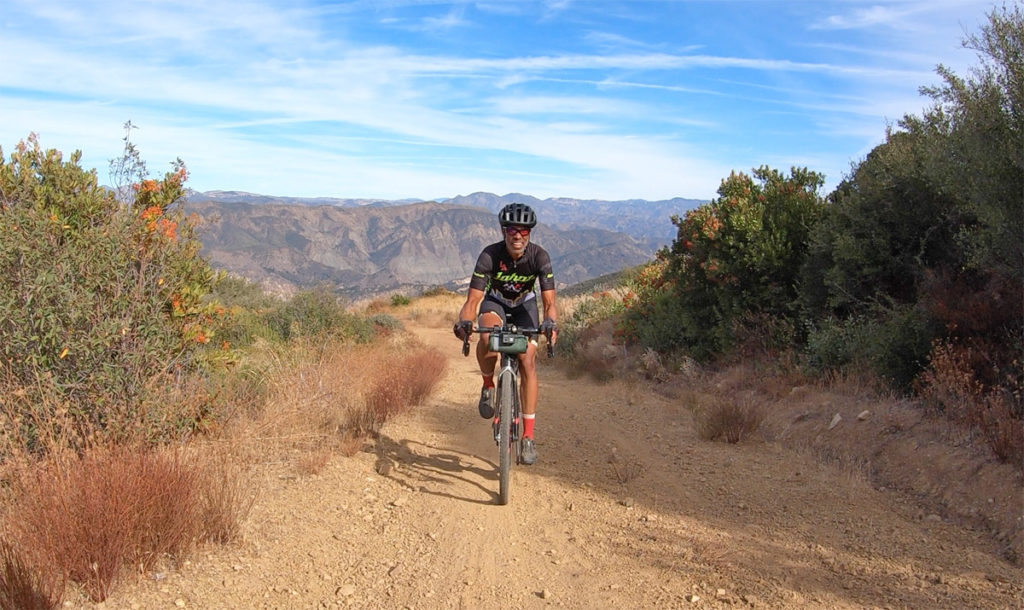 When I'm on my road bike, I normally continue west where ahead I'd cross Highway 154 and take a short descent to Cold Springs Tavern (which we covered on our Refugio ride), but since I've added a lot of extra dirt miles, we turned down Painted Cave Road for a more direct return back.
You won't find lane markings for a good part of the road, so beware of oncoming traffic, but there are a few highlights to stop for including the home leaving supplies for cyclists, scenic overlooks and of course, the historic Painted Cave itself.
Wiggling your way down, you still have to cross a busy Highway 154, but on the other side the street turns into San Marcos Pass Road where you'll have the chance to pick up the most downhill speed for the day.
With just a few miles of surface streets, you're back in Santa Barbara finishing off your loop that should not be anything less than extraordinary.
Climbing Gibraltar Road alone is definitely a bucket list item, but adding gravel only solidifies it further as a superlative.