If there's a trail that best defines the Santa Monica Mountains, it easily would have to be the Backbone Trail.
This 67 mile connection begins out of Will Rogers Historic State Park in the Pacific Palisades and rides the ridgeline into Ventura County ending at Point Mugu State Park.
Its origins began in the 1970s, but it wasn't until 2016 that the entire trail was connected. 
Along the way, the Backbone Trail showcases some of the best views the area has to offer not just of the Pacific Ocean, but the terrain itself.
Backbone Trail: Encincal to Circle X Ranch: 10.09 Miles, 1,625 feet of elevation.
Unfortunately, you can't experience the entire trail by bike as a couple of significant blocks doesn't allow cycling.
Still, I've experienced all but fifteen miles of the trail whether by hiking, biking or trail running before this excursion.
Since the Backbone Trail was connected in piecemeal fashion, so are the conditions as well.
While there are sections that are fire road, the majority of it is single track with varying degrees of difficulty and maintenance to deal with.
Previously, my favorite section of the Backbone Trail was the one furthest west, with long, sweeping turns with plenty of room to negotiate as you enjoy gorgeous views with the ocean as a backdrop.
That was until a couple of years ago when I got a bit more adventurous.
Since there are parts that lean more towards mountain bikes than gravel, I though trying the 1.2 mile section from Encinal Canyon Road to Mulholland would be short enough that bailing out wouldn't be such a time suck.
While the terrain looked perilous from afar, the ride was smooth enough that you could go at almost any tempo you pleased.
There were some parts more technical than others, but the ease of this segment was pleasant enough that I wanted more!
I decided to do the next part starting on the other side of Mulholland only knowing it was about four miles.
The first half is some of the most fun you'll have riding gravel even though it was mainly climbing in this direction.
It's like a dream how this trail flows
This section is so polished and fluid, you'd think it was designed by Disney Imagineers.
It curves so much that you loose track where you're headed, but by the time you reach Etz Meloy Motorway, you've gotten a full dose of radness.
While this dirt throughway seems a bit steep for cars, you do get some of my favorite views as you can see the beauty from the tectonic shift of the landscape over a million years.
After a mile and a half of steep climbs and descents, I took the fork back onto the Backbone's single track for the final 1km of the segment.
Very picture worthy
This part didn't go so smooth with downhill, slippery conditions making it difficult to navigate some of the turns that just seem to fall off.
As I hit Yerba Buena Road, a group of mountain bikers passed to the next segment making me think after this last portion that it may not be for me.
Still, my curiosity stayed with me and looking at the particulars on Strava, it looked safe for gravel with the fast times and easy grades presented.
What happened, you'll have to see in the video, but needless to say it's worth your time.
***** ***** ***** ***** ***** *****
If you're looking to do this ride, ten miles may not seem enough to get out there and simple math tells me you can double that by going back.
I like doing loops and while you can return via Yerba Buena (which turns into Little Sycamore as you cross back east into LA County), I prefer heading west because riding the coast back is another deserving reward.
You can return back from PCH up Mulholland, Decker or Encinal Canyon, but if you're looking to add dirt, I have a couple of suggestions.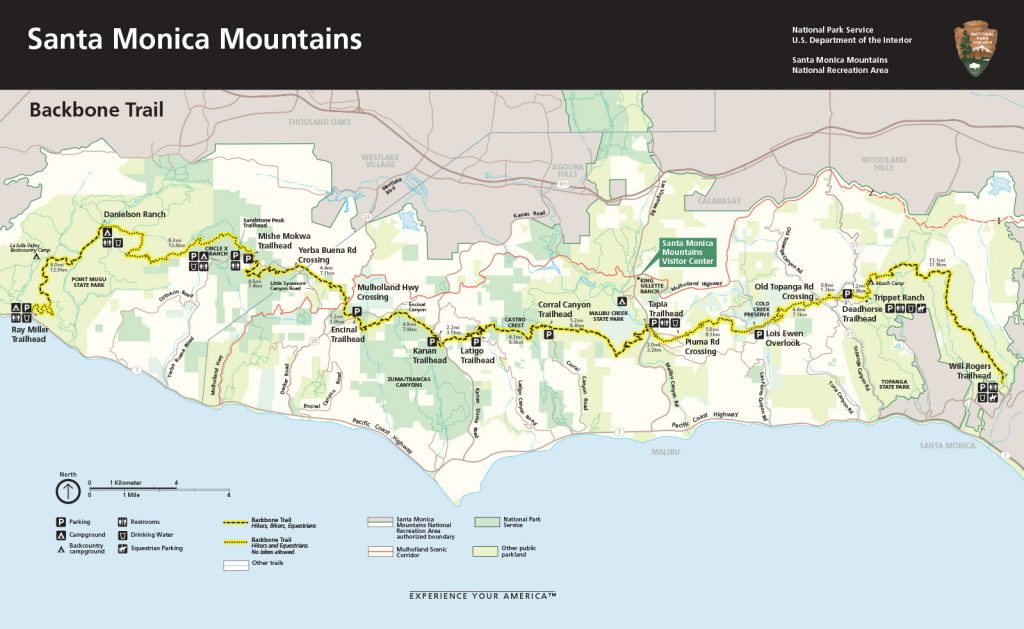 One is to start out of one of the coffee shops west of Kanan and head up Zuma Ridge with its 7 mile beast of a climb before you hit Encinal (40.31 miles, 5,138 feet of climbing).
Another choice is starting out of Thousand Oaks knocking out the hefty Highway 23 climb at the start making this a clockwise loop returning through Point Mugu State Park and Hidden Valley (43.07 miles, 5,046 feet of climbing).
Check for closures, but here are a lot of options if you're looking to make this more on an adventure.
Please consider supporting Gravel Bike California on Patreon for as low as $3 a month.