Santa Cruz has always been an area I've always wanted to grasp, but have always been outside my comfort zone on visits.
I like understanding the order of the place I'm in which is easy to do in smaller towns, but in larger places like Santa Cruz I'd like to have more of a focal point.
This is a problem stemming from an embarrassment of riches with a number of great beaches dividing their alignment from tributaries flowing from the mountains above.
Other than its vibrant downtown, there isn't much of a grid making it a bit harder to connect the dots which is why having Larry as a ride guide definitely came in handy.
The area is also known for its redwoods, so getting up into those hills are a priority and once you get rolling it's not hard to find dirt.
Wilder Ranch State Park gravel options melds all of what you want to see.
Wilder Ranch State Park Ride with GPS
Everything south of Pacific Coast Highway is emblematic of Central California and its ragged shoreline.
The ease of the terrain and obvious beauty attracts many visitors, make sure your primary purpose is to take in the views rather than breaking speed records.
Taking the tunnel underneath the highway not only expands your options, but also introduces the vertical.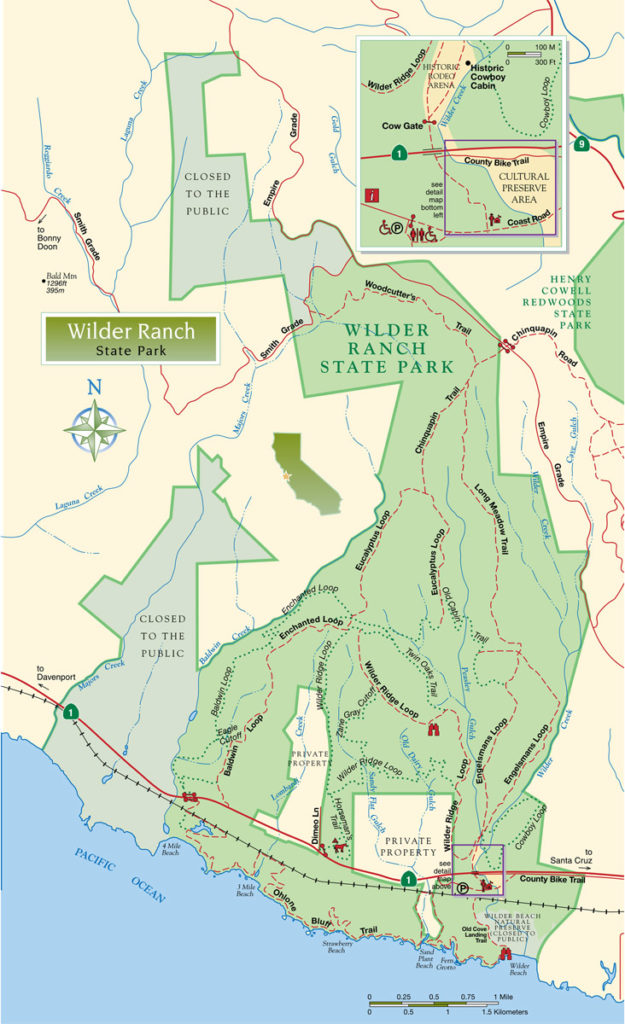 We started under the tree cover on the west side of Englemanns Loop as a fun warm up where climbing was at an enjoyable spinning pace.
The first big moment was emerging from the foliage as the trail weaved in and out of open space culminating in a fantastic view across Monterey Bay at the top.
Continuing north onto the Long Meadow Trail brought our more inconsistent grade of the day, but still not a straining overall effort as the trees close in again.
The first big payoff was the downhill adrenaline rush going down the Woodcutter's Trail.
It was my first encounter within the redwoods of the day where their height brings a issue of darkness for those (like me) with sunglasses too heavily tinted.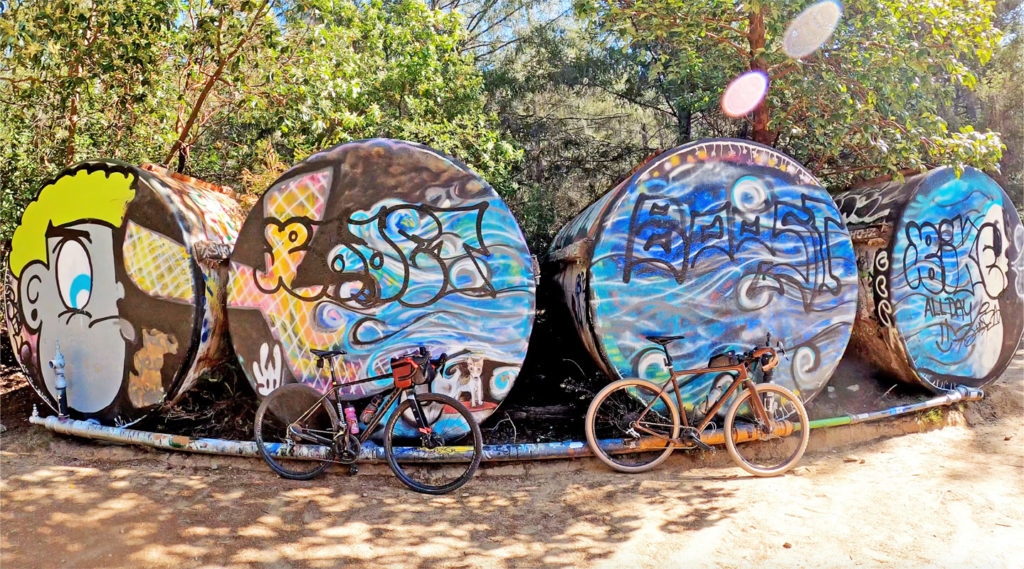 We exited out to Smith Grade with a double digit climb that felt equal to those on dirt with half the grade.
With another paved stretch on Empire Grade, we then cut into UC Santa Cruz which is the way you want to exit a ride.
Chinquapin Road led us into upper campus by the famous drums that a picture is a requisite.
The best part was just past as the streaming downhill was so much fun, we looped around again to take it in.
On our way out of campus, Larry's sixth sense found every patch of dirt on the way out and the return on gravel investment was high on this ride.