As an Angeleno (and more specifically a Gr818er), the initial appeal to gravel was to explore new areas after seemingly ridden all available pavement around me.
The San Gabriel Mountains have provided that relief, but after years of dirt, I was starting to feel like I was exhausting all my options.
That reasoning was led by the belief that I had ridden all the awesome roads, otherwise I would have heard of them, so Gold Creek came as quite a surprise.
Troy and David from Road Bike Magazine are far more accomplished cyclists than me, so when they said this route was a must do, I had to take it with a grain of salt with my learner permit skills.
Little Tujunga Canyon is well known for riders in the Northeast San Fernando Valley, but it's already a starkly populated road so Gold Creek sitting a few miles up never looked promising every time I passed.
At worst, I would have been fascinated by all going on here even if I didn't know where to go with a variety of uses ranging between wedding venues and car dumping grounds.
The initial climb up dirt already lingers around 10% where you view the rarely laid eyes on Gold Creek Retreat tucked away in the mountains.
After a half mile of climbing, you peak where it appears to continue on, but the fire road is closed ahead meaning the hopefully you noticed the Bolder Creek single track to your right to continue the ride.
While this is roughly just a kilometer, it plays longer with its distance even subtracting a short hike-a-bike section over the creek.
This trail T's into a fire road where it should be obvious the direction to continue is up.
Averaging 11% over two kilometers, it's clear you'll be focused on the grinding because there's not a lot to help your mind wander.
At the next intersection, the turn to your right exits you down into horse country, but the play here today was continuing left on the Gold Canyon Truck Trail where you guessed it: more climbing!
It's roughly another mile and a half around 8%, but you'll be mostly in the double digits minus a few short reprieves.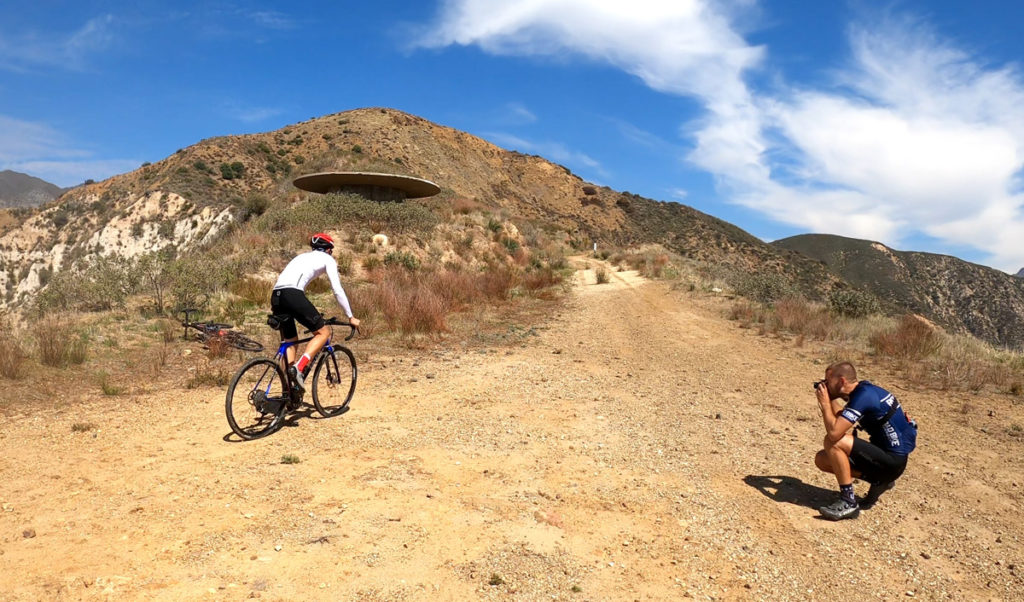 After some rollers at the top, you'll want to take in the views before one of the most fun descents around Angeles National Forest.
The surface conditions rate pretty good and the ever changing views are the best reward on this ride, but it's easy to overplay with all these distractions.
Hitting Big Tujunga Canyon, timing and already having a great adventure kept us from another climb back into the mountains (while our venture into the wash was a whole other story).
Gold Creek encourages me that not all dirt has been properly reconned and am looking forward to more adventures like this…if someone else does the legwork first…