Mount Gleason Road is a bit of a mystery for a road that is so epic.
Every time I've ridden it, the experience always surpass my expectations, but the question is why are they so low?
The biggest issue for most cyclists is that it's quite a trek to reach Mount Gleason Road.
Most likely, people are going to access it from Mill Creek Summit off of Angeles Forest Road.
As the name suggests, no matter which direction you're coming from, you've got at least 20 miles of mainly climbing from the urban fringes of Los Angeles or you have to make a long trip out to the Acton area.
I started out of Tujunga that morning and there were a number of signals I could have taken to turn back.
The last six miles to Mill Creek is a steady climb that felt monotonous with visibility being near zero due to the depth of clouds.
Luckily, I had the foresight to bring a rear light, but even drivers were mainly staying away from these conditions that morning.
In this case, it worked in my favor because the lack of knowing where I was headed made the ride seem a bit faster by the time I reached the top.
At the entrance to Mount Gleason Road, there was only a truck and a couple of cars parked nearby suggesting that it would mainly be me up there.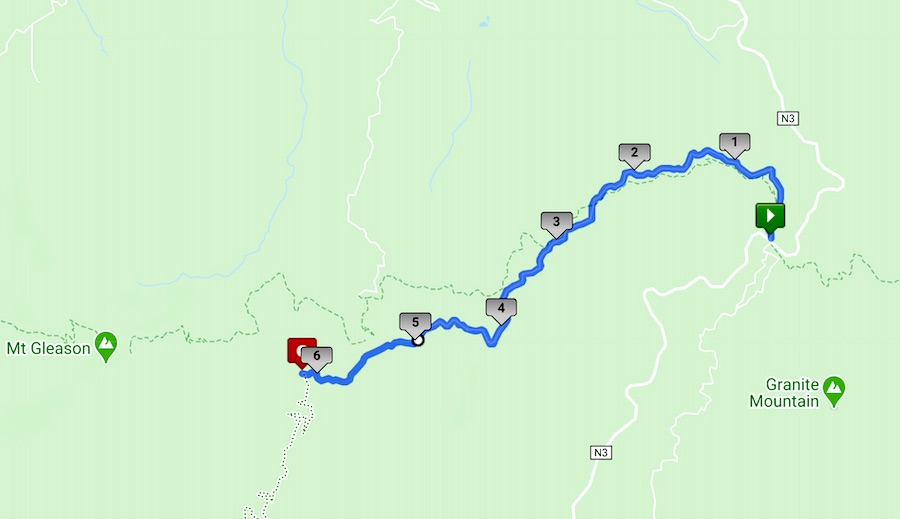 My goal was to at least reach the former site of Camp 16 and possibly Mount Gleason depending on time.
The good thing about Mount Gleason Road is that it is mostly paved and I've ridden a road bike to the top of the mountain having to navigate a short, doable dirt section right after Camp 16.
Still, that morning the haze still didn't escape my path for the first mile with my mind playing to the thoughts that I should turn around.
With nowhere else to go, my lack of options paid off as I gradually elevated myself above the clouds.
Mount Gleason Road stays on the northern side of the ridge to start, but once the south exposed itself, that's when the ride felt ephemeral.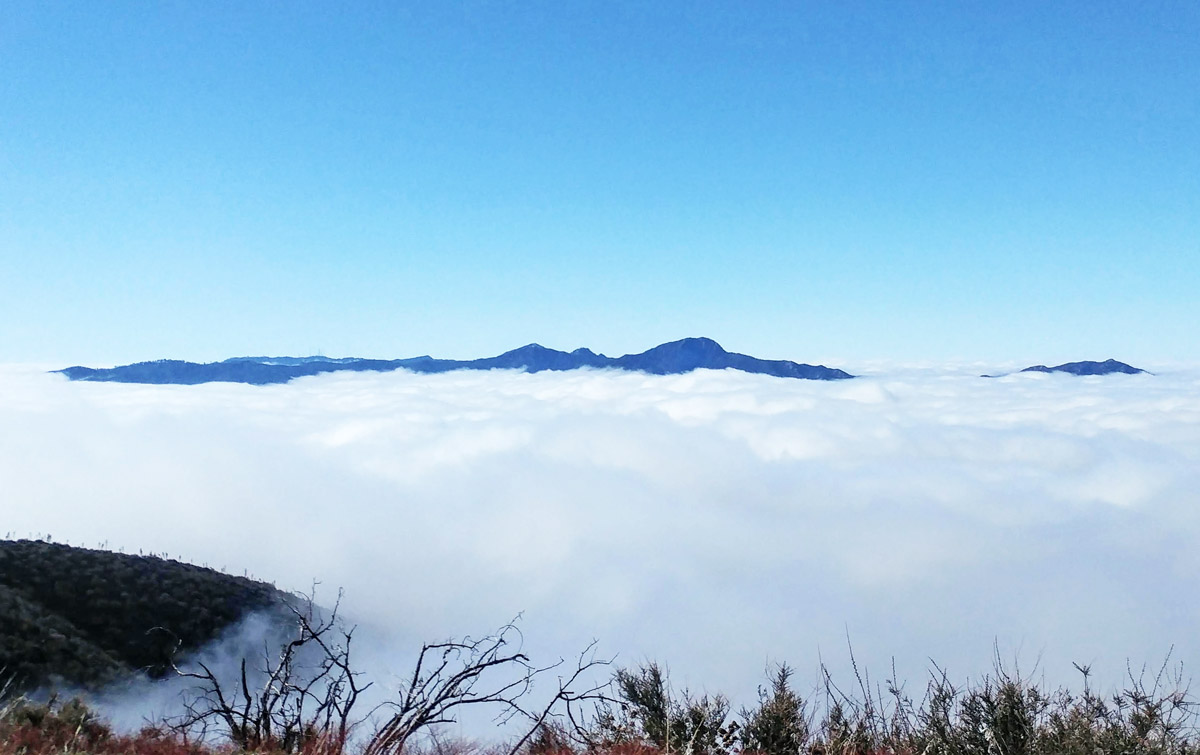 Mt Wilson, San Gabriel Peak and Mt Disappointment sneaking through among others
At about 5,600 feet, I could make out a number of the peaks that pierced the cloud line as I could make out Mount Wilson, Pacifico Mountain, Mount Lukens and Mount Baldy among others.
It was like seeing another world of these small islands that existed above the heavens.
Heading west is the slower direction as it's mainly climbing until you reach Mount Gleason allowing me to enjoy the scenery.
The first feature you see reaching Camp 16 is the memorial to the fallen firefighters of the 2009 Station Fire.
Whatever your beliefs, seeing the clouds grace these tributes to those lives lost gives thought that some other power was involved with that moment.
It had been a little over a year since I had been here last and since that time, the remaining structures that survived the Station Fire had been razed but you can still get a sense of Camp 16's size by its footprint.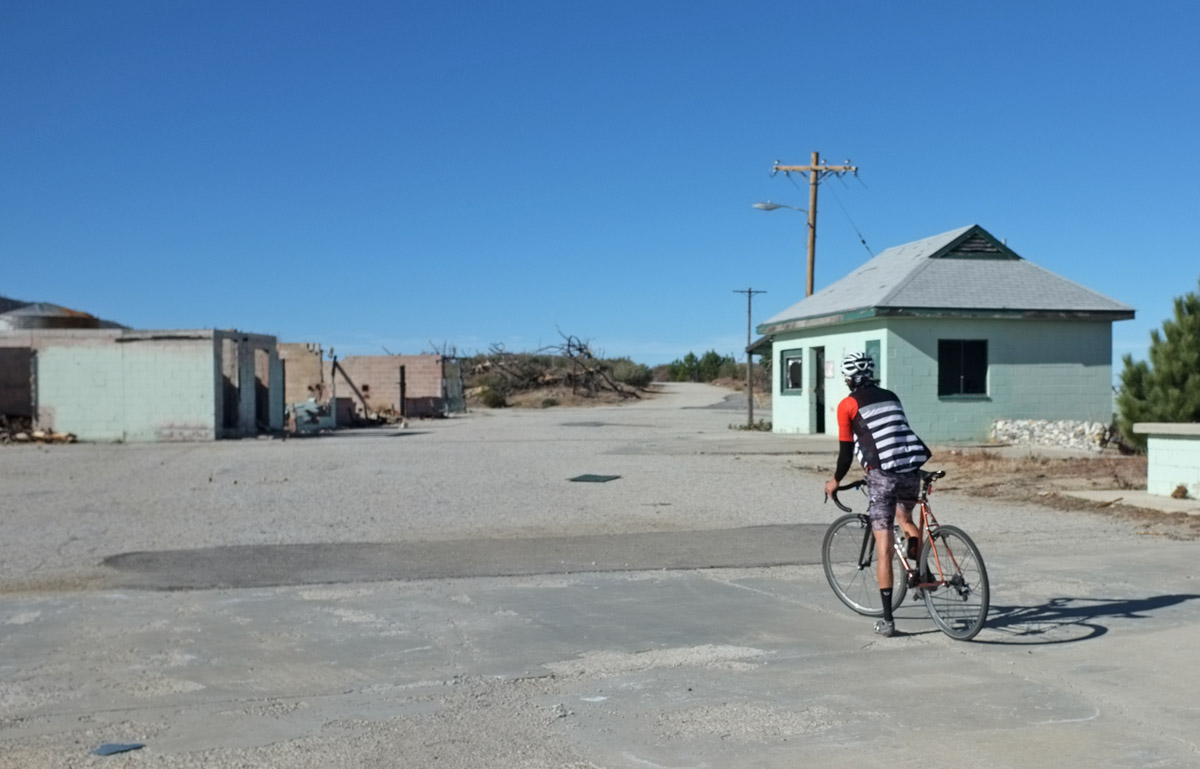 Camp 16 before its demolition
While I might have had time to make it up to Mount Gleason, just seeing its snow capped top was enough for the day and I was ready to head back.
Returning on Mount Gleason Road is a big payoff as it's mostly downhill with big, beautiful sweeping curves to enjoy the magnificent panoramas from the day.
Having the clouds drape in and out over my path added another dimension to the feel of flight coming down the mountain.
Even descending into the soupiness was more pleasant that coming up as I could see layers at this speed.
The capper was taking just an an hour and twenty minutes to make it back the 26 miles back to Tujunga even with a couple of hills and stops along the way.
Whether you drive or bike all the way out, Mount Gleason Road is an experience everyone should have on a bike.