(Image source: @rquandt & WinFuture)
Around every September, you can't avoid the excitement around a new GoPro release, but does the Hero 11 Black do enough to keep me losing sleep?
Well, first the no.
The Hero 11 Black is mainly the same camera as the 10 with only nominal upgrades most users won't notice, such as a newer version of Hypersmooth that has previously only improved slightly over generations.
This is due to keeping the same processor which GoPro doesn't normally turn over year after year,
For me, getting the 10 was a necessary upgrade for me as shooting 4K video with 120 frames per second over the previous 60 mark has been important with my videos, but that doesn't hold the same for most cyclists.
The majority of people biking tend to use the handlebar mount for their cameras for recreational videos and really anything down to the Hero 7 Black serves that purpose.
You see a handful of people using the chest mount, but a big issue for helmet placement hit after the larger bodied Hero 9 came out making it a bit too bulky to keep up there for an extended amount of time, as the current versions carry the same dimensions.
I'll reiterate what I've been telling people the last couple of years that if you're just getting into shooting video off the front of your bike, you're fine getting the 7 or 8, but the problem is GoPro now only sells the 10 and above on their site.
So what should you do?
I'm going to say hold off just a little longer, because there's a second version of the Hero 11 coming out a month later in the Mini.
While specs aren't fully out, there is enough info telling me this is the best option for cyclists having the same shooting options as the 11, but at a much more manageable size.
Adding a second mounting point is an extra bonus, but I like having the integrated battery as I've always had an issue with the inserted ones jiggling out of place, not to mention the camera overheating.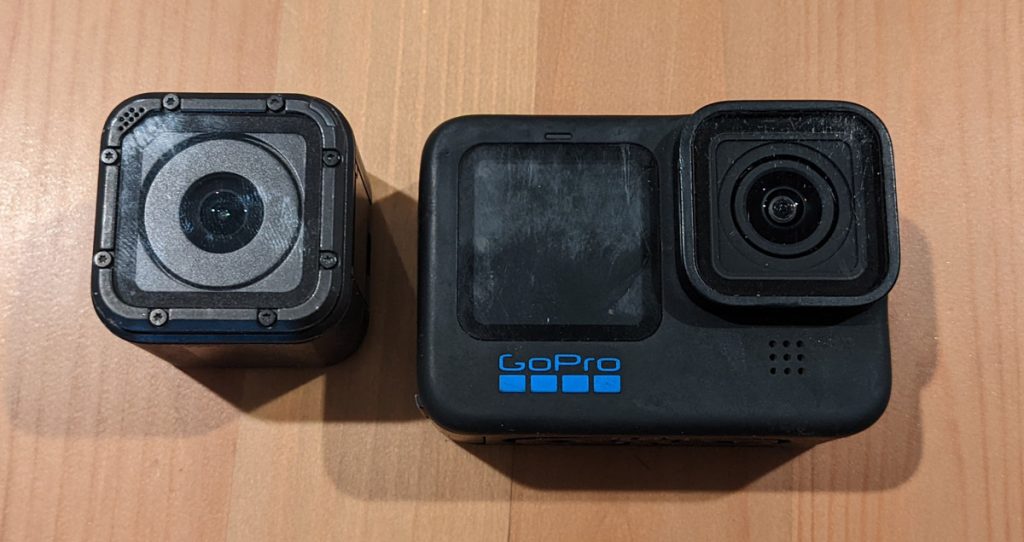 The Mini calls back to one of my most beloved cameras in the Hero 5 Session as it's small, square design made it quite versatile and you could even see riders on the Vuelta use it this year, its only flaw is there's no Hypersmooth in 4K, but that was before its time.
Another huge selling point is the Mini costs only $299 with subscription ($50/year which is a good value), that's $100 cheaper than the straight up Black.
At the same time, there are issues people may have with the Mini with the main one centered around no screen to preview your video or to change your options.
That'll now be handled through the app which no one has ever written a glowing review over, but I will admit its functionality has improved recently.
So bottom line, if you already have a Hero 7 and above, hold onto your money, but if you're cameraless wait for the 11 Mini to come out.