November 14, 2021 – Calabasas, California
Casper Casparian
Many endurance, marathon, and gravel races offer the promise of an exotic locale, or at least unfamiliar terrain to offer a unique challenge. Having grown up in the exact area of the Gravel Bulldogs ride, held on November 14th, I can't say I was drawn by the novelty of this course – at least in terms of the route. But as an overall experience, the Gravel Bulldogs definitely delivered its own brand of organized – and dignified – ride experience. As a "greatest hits" of Southern California climbs, descents, and scenery, Gravel Bulldogs also serves to highlight some of the best beauty and adventure this area offers.
The ride draws its name in part from the infamous Bulldog Motorway, a steep and lightly trafficked fire road that climbs from Malibu Creek State Park to a high point on the ridgeline of the Santa Monica mountains. The fireroad, which factors as a descent in the Gravel Bulldog route, is lightly trafficked for good reason: it's steep, rocky, and loose. Whether you're on two wheels or two feet, there's no easy way out.
Bookmarking this namesake centerpiece of the route is the unquestionably challenging climb on Puerco Canyon, which rises from just above sea level in Malibu to almost 2,400 feet in about 7 miles; and a shorter, steeper climb to finish the ride on the Valley side of the Santa Monicas, Calabasas Peak Motorway. Together, these two climbs comprise the "King/Queen of the Mountains" competition for those riders who chose to pursue it (more on that in a minute).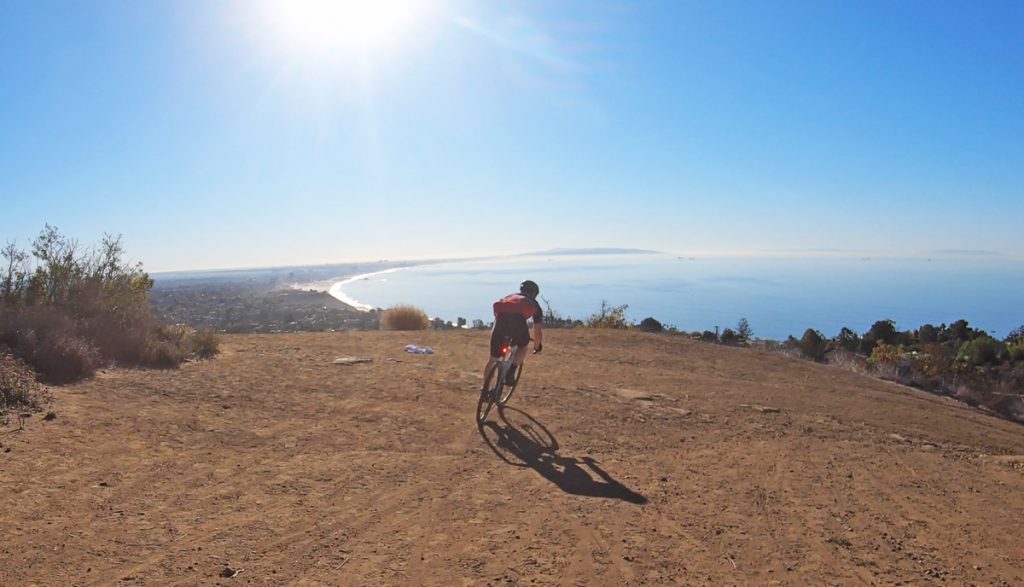 Overall, the full course is about 54 miles, with 7,300 feet of climbing, with all but about 20 miles being off-road.
Here are some of the ways that this ride stands out from other gravel rides you might encounter: First, as the organizers, Pedalers Fork restaurant and its sister operation 10 Speed Coffee, consistently note, "It's not a race!" And in fact, there was as much party pace and good cheer as you wanted in this route – but most of all, after the ride. Gideon Kleinman, head of Pedalers Fork/10 Speed Coffee, said, "The goal is the party. We can't own the Puerco or Bulldog fireroads, so our brand for the event is the restaurant, the space, and the experience."
Even so, this "not a race" offered something for the racer-heads too, by virtue of those two KOM segments. Event timing app racegps.cc listed Gravel Bulldogs as an event, and riders who recorded their .gpx files could upload their times to the app and enter the competition. The KOM/QOM prize awarded $500 for lowest combined times for men and women.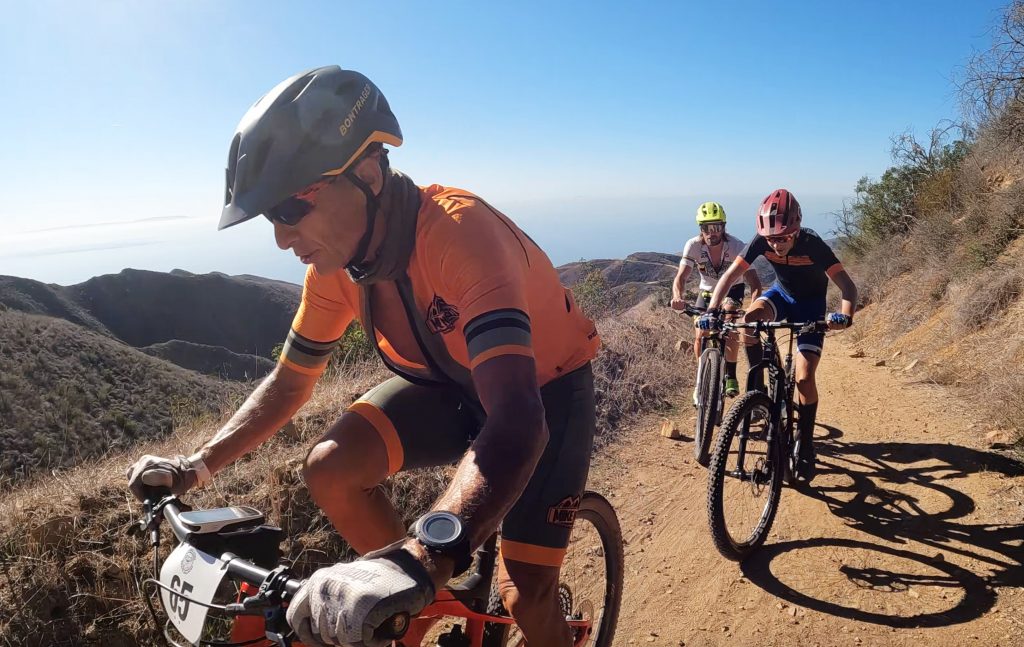 Additionally, the ride began with a start "window" between 6AM and 9AM, so you could depart at whatever time felt right (and most importantly, would return you in time for the 1PM lunch rollout). Kleinman calls this setup "roll separately, ride together," and it flips the script on the regular event departure. Gone were the ordinary stress, lines, and aggro mood of the "packet pickup and staged rollout" phase of many rides and races. Not to mention the fact that with few riders gathering and starting at the same time, the entire signup/rollout process was very Covid-safe.
Last but not least, let's just say that when a restaurant – particularly a restaurant popular with cyclists and with inside knowledge of the cyclists' appetite – hosts a bike event, you should go. From the pre-ride breakfast pastries, to the brisket sandwiches and burgers, and house-made salads and slaw, the food at the Gravel Bulldogs makes the event impossible to duplicate. According to Pedalers Fork, they went through 20 full briskets and 70 pounds each of macaroni salad, potato salad, and coleslaw at the after party.
How It Went
Ride day dawned clear and bright, an ideal setup to pay off the ride's promised "views for days." There was literally not one cloud in the sky. The bright sunshine came along with unseasonably warm temperatures, the tail end of a heat wave that struck the L.A. area earlier in the week. Adding heat onto this route, that is tough in any season, gave it an extra edge of epic.
Given the staggered start, and the late nights I had been keeping earlier in the week, I opted to start later than some of my training mates. I departed at about 8AM, going east from Pedalers Fork to Dirt Mulholland, a fire road spine on the Santa Monica Mountains, and then entered Topanga State Park at Temescal Fire Road. The dirt along these routes is hardpack, to say the least. At times, you may find small patches of kitty litter or a rock or two, but you're essentially riding off-road concrete.
I was amazed to find that I encountered few riders all the way through Topanga SP, and then down Paseo Miramar, a scenic, winding paved road that quickly descends from Temescal Fire Road's end to Sunset Boulevard. I connected with one other rider, part of a huge contingent from a local club, for the quick, flat, and paved 10 miles along Pacific Coast Highway, which was lightly trafficked for a summer-like Sunday.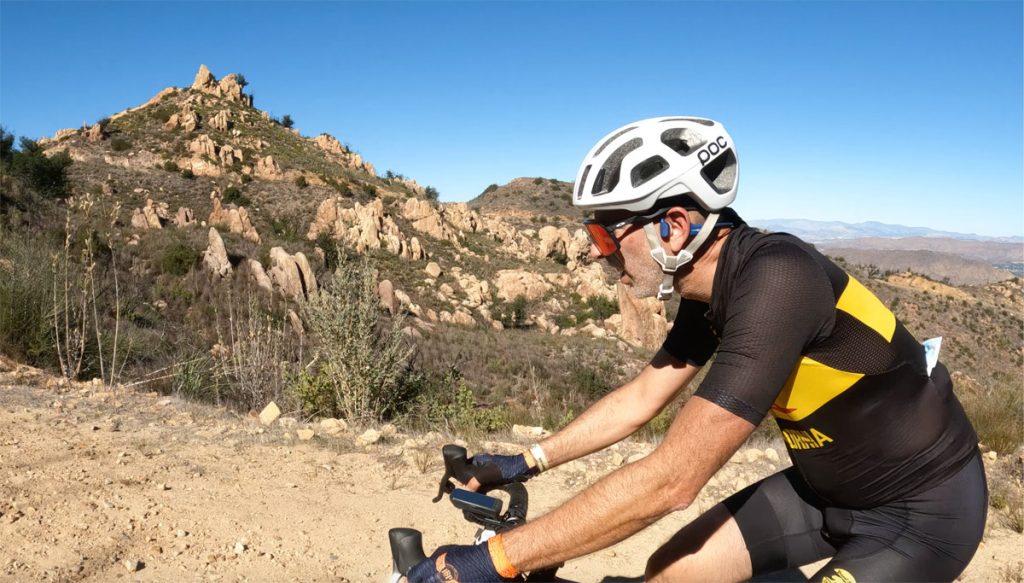 The first rest stop, supported by Corsa botanical drinks, was right at the start of the Puerco Canyon climb. I downed a Corsa, only to upchuck that and some other stomach contents within a mile or so of the climb. (I guess I could use the lightening up.) Puerco Canyon has plenty of that Southern California hardpack, but with bigger sections of flatrock that can give you extra traction, or turn your wheel and your day sideways. There are very few segments in Puerco's 7 miles that have gradient less than 10%, and several of more than 20%, so suffice it to say the average speeds on this climb are, well, modest. On the way up I was glad to see riding and racing buddies from years and decades past, even stopping for a hug or two.
The questionable forks in the fireroad were usually marked off with spray-painted arrows, which I came to really appreciate and look forward to. I considered them my happy arrows. At the end of the Puerco – Mesa Peak – Castro Peak climb to Bulldog, amazingly, there was another rest stop. I can't quite figure how they hoofed all the gear needed for a rest stop at least 2 miles over rough terrain, but thank goodness for that. Another topoff, water on the head, a couple of gummies and I was headed down the eponymous Bulldog. Even with my 40c/45c tire setup, and having let out pressure before the descent, I had a couple of foot-down-near-wipeout moments. Beware the Bulldog.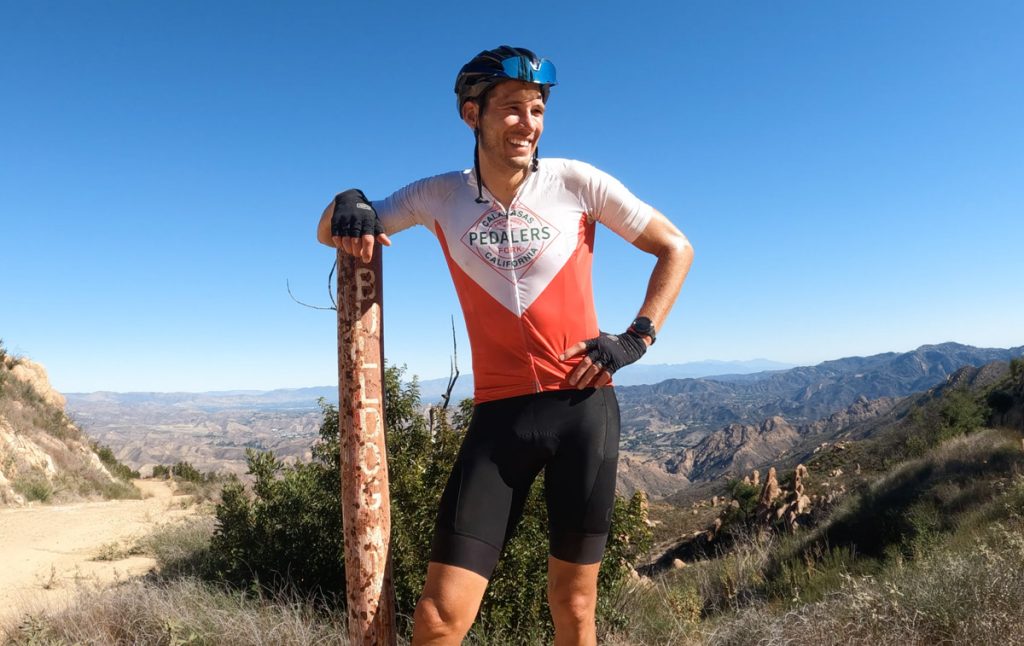 Coming out of Topanga SP, we had a short bit of road on paved Mulholland, before turning onto Stunt Road and the base of Calabasas Peak Motorway. The day started to hot up at this point – of course Garmins are notorious for their inaccuracies, but the temps were certainly above 90˙ F, with some even reporting more than 100˙. As with the first rest stop, the final rest stop was right at the base of the climb. I may have reached the point where I stopped sweating, so I downed as much water as I could before crawling up that climb. Apparently, the water ran out before the ride was done, which made the last few miles even more brutal for those riders. (Pedalers Fork stated that beefed-up rest stops are a goal for future editions.)
Calabasas Peak's surface changes along the way, from loose-over-hardpack, to bigger sections of rock, to a "rhino hide" surface of very rough but flat tiles of rock, about 1 foot across. This terrain variety, plus my Spotify playlists, gave me enough distraction to make it through the day.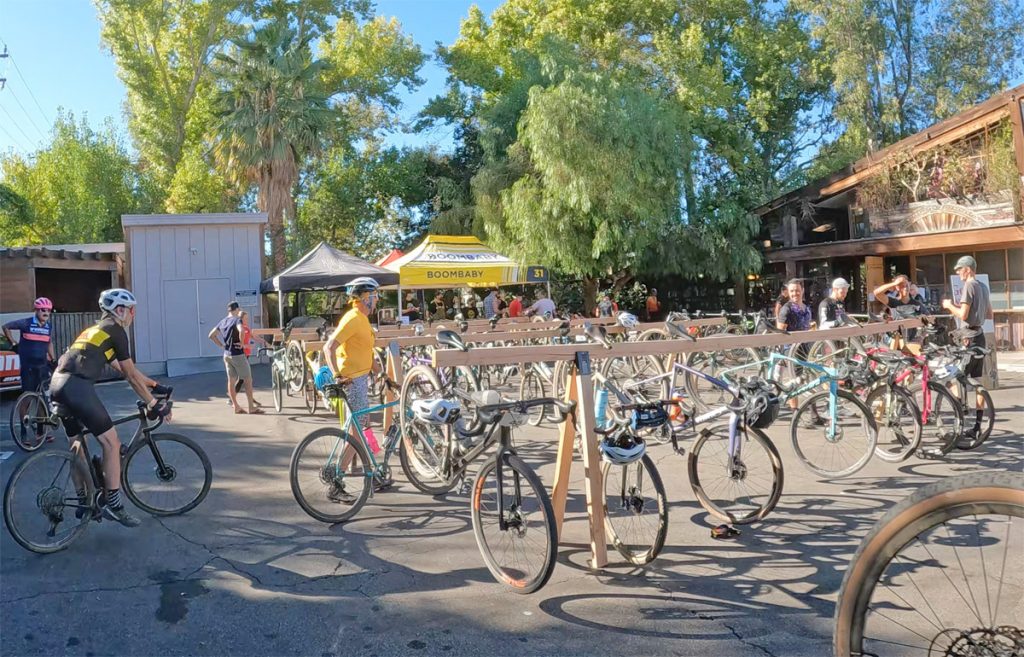 Exiting that dirt road, and facing the last little bit of pavement from Old Topanga Road back to Pedalers Fork, I felt that moment of elation that all cyclists know, when the end is near. By a miracle of timing, the cramping that had been at bay all day showed up just when I turned off the main road to get to PF. So I could barely move my left leg, but only for one-half mile. And thankfully, the finish line included a full meat and drink party, sitting down in a real restaurant (which was closed for the day), and live music. Even though there's a time and a place for squatting on a curb and eating from your lap after a tough event, Kleinman said, "we are on a continual quest to have cyclists not sit in the parking lot." It was very refreshing to have a civilized end to a rough and wild ride.
I recognized many riders in the event, or at least their local club affiliation. Except for one I leap-frogged with a bit, who sported the Olympic Club kit of the San Francisco-based team. In fact, he had traveled from Northern California just for the Gravel Bulldog. He was so thrilled with the novelty and beauty of this event, and said he'd come back again and again. (Pedalers Fork confirmed that the race is scheduled to return next year.) I was reminded to not take this route, and roads beyond, for granted, even though they're right in our backyard. It's all worth traveling for.

My stats: 53.63 miles, 7,291 ft. elevation, 4:42 moving time. YMMV
https://www.strava.com/activities/6258840499
Playlist: