Sometimes you have to step back and think about the amazing dichotomy in California with these big cities not only offering a great number of off-road options, but the wide variety between them all.
The San Diego area may be harder to define as an outsider not hitting the wide range of geographic features or tree filled forests like other areas, yet the gravel opportunities here still flourish in their own unique manner.
Last year, I joined Gravelstoke for their season launch ride with their development team looping out of San Marcos through Lake Hughes that had a variety of fun segments crossed together.
I was ready for a similar experience, but this time starting out of Carlsbad featuring an entire new loop with Black Mountain gravel being the main feature.
The beginning had a real mixture with the well-groomed multi-use trails of Encinitas, to the rugged off-roading through Rancho Santa Fe followed by the speed and switchback in the San Diegito River Park, and we were only a third through!
Entering La Jolla Valley raised the stakes for playfulness riding largely single track that was lively in every direction.
With a quick stop at Black Mountain Ranch Park, you knew the main climb loomed in front of us, but topping out 1,600 feet above sea level, how treacherous could it be?
After some up and down along the southern edge, the turn north signaled the main start averaging a steady 6.8% for just under two miles that played outside its numbers.
The hitch with Black Mountain gravel is how rocky it becomes on the way up making it hard to navigate in a straight line let alone avoid the many other trail users out there.
There's some nice circular views at the top, but surprisingly the descent wasn't as bumpy as I had expected being able to comfortably roll over most of the outcroppings on my 42s.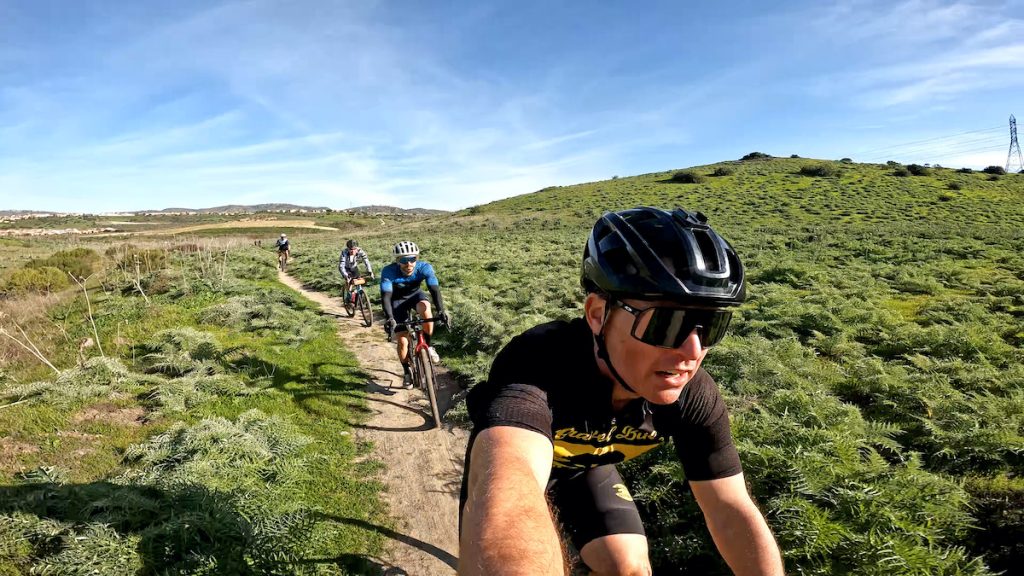 We did some backtracking before making our way west bouncing around a number of options through the San Luz network of trails.
The general vibe of dirt followed streams and waterways that trended in the downward direction out to the ocean that was generally playful except for the extreme undulations of the Lagoon Trail.
Our ride concluded this "U" shaped loop riding up the Coast Highway which still has a mid-century comfort to it before finishing up at the Lost Abbey Confessional.
While climbing Black Mountain gravel may not fill a whole day of riding, thankfully there are so many nearby options to supplement a complete day.