After years of eyeing the Strava Heat Maps, exploring some Angelus Oaks gravel was research that paid off well.
Even with our initial experience in the San Bernardino National Forest not being a top one, our Big Bear trip uncovered what we were hoping for and we were looking for more of the same in Angelus Oaks.
While this area seems to be well-traveled, it is also known for a lot of mountain biking so it was great to have Michael from the Redlands Strada Rossa provide some local knowledge.
One of the biggest draws for me is riding abandoned roads especially from the early 20th century when construction methods were far more primitive.
Mountain Home Creek Road (aka Lock Leven) fits this profile which derived from an old stagecoach route born out of the 1849 gold rush in Holcomb Valley.
The grade is not extreme serving the limitations of transport for the day, but as it's been replaced by Highway 38 for more than fifty years, washouts and time makes it gravel friendly.
I could only imagine how distracting this drive would have been with each curve offering another attentive view, but also where was the space to let oncoming traffic pass?
The road exits out into the heart of Angelus Oaks where the Country Store has plenty of offerings and is placed as a requisite stop.
From here your ride lollipops as this thirty mile loop is viable in both directions, but we chose counter-clockwise as I like reaching the higher elevations sooner than later.
After chomping a few miles down on Highway 38, we made a right up Jenks Road that was a bit steeper, but still paved and quieter once we turned off.
We took an short sidebar down to the lake which I considered as R & D for a spot to take the family to relax and learn fishing.
Returning to the road, the junction to Poopout Hill was just ahead and I'm glad Michael included this gem of a climb.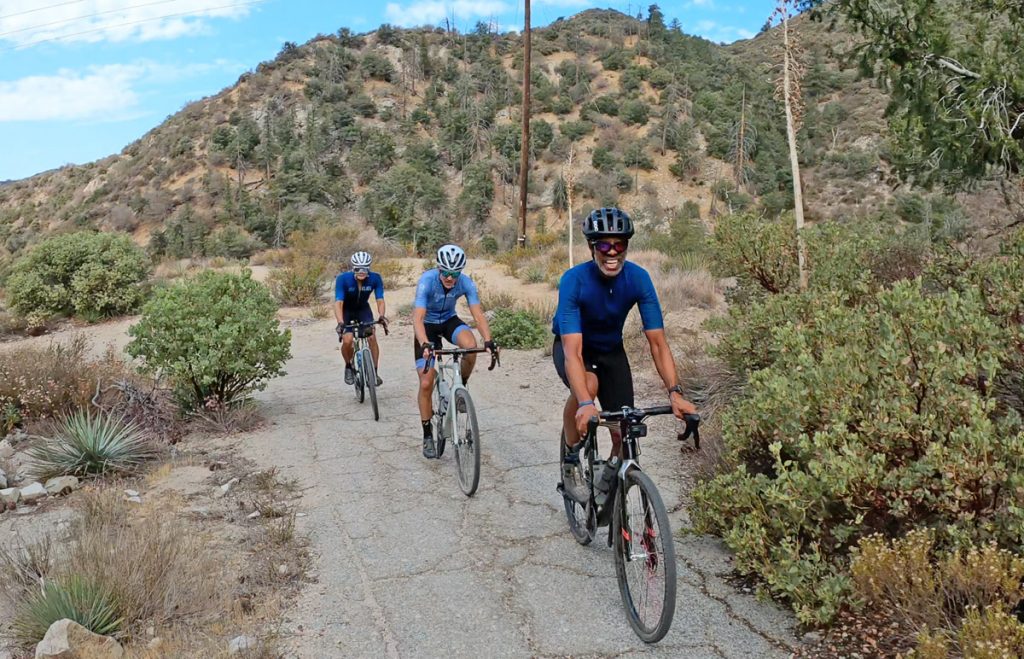 It's three and a half miles averaging a deceptive 4.4%, but even when you subtract out a couple of dips, the grade still is steady in the single digits.
The best part of this climb as you go way above 7,000 feet in elevation is how the landscape opens up and you can see identify so many features easy including San Gorgonio Mountain that looms at over 11K.
The majority of our downhill took place on the opposite side of Highway 38 as Seven Oaks Road cuts through the bottom of this valley following the Santa Ana River.
It's bookended by large sections of well-conditioned dirt due to the many campers and cabin users in the area.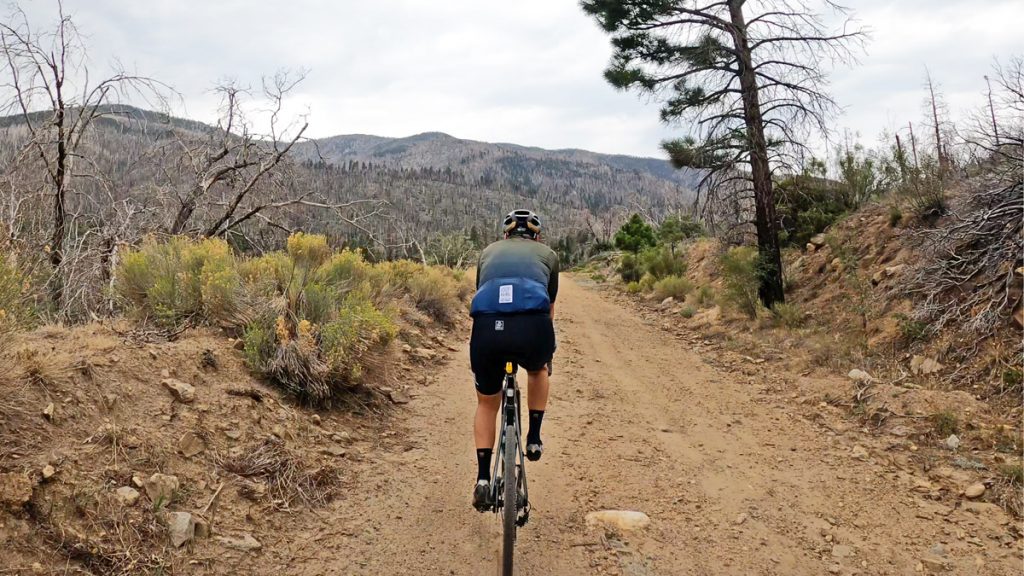 Do save a little in the tank for a three mile climb out, but you'll exit right back to Angelus Oaks where why not make another stop?
The return down Lock Leven is as much fun as advertised with a fun flow, but keep your head up near the bottom for a stretch of grooves.
While there was over six thousand feet of climbing in under fifty miles, still this ride punches above its weight as the ride never feels overly strenuous along the way.
It's safe to say while not as well-known to people from the Los Angeles area, Angelus Oaks gravel is well worth the trip.