The Sierras are a tricky lot and there's very few places that can compete to unleash its secrets by bike other than Truckee gravel.
While these mountains are nestled with a number of small towns, Truckee stands out clearly from its history for those making their way across the west.
Even with the tragedy of the Donner Party, it was clear that the California Trail had to cross through here leading traveler's passage over Emigrant Gap in the mid 19th century.
As the gold rush era faded, Truckee was well positioned as a stop on the Transcontinental Railroad opening in 1869 cementing its prominence as more than a boomtown.
History continued to find its way through as the landmark Lincoln Highway made its way in 1913 as well as the rush to finish I-80 for the 1960 Winter Olympics.
All this infrastructure has made Truckee a recreational destination, more well known for the snow activities, but obviously well suited for cycling as well.
There are many organizations in the area, including the Truckee Trails Foundation, Tahoe Area Mountain Biking Association and Donner Truckee Land Trust that foster a great network of off-road opportunities.
Truckee Gravel Loop

Our ride hit a number of trails north of town above the Truckee Donner which is an amusement point of choices.

We were fortunate to have Mark to navigate us showing some of his favorite choices in the area.

Beginning with the Donner Lake Rim Trail was a proper introduction to dirt with a six mile ascent showcasing exactly what you'd expect.

While single-track, the pitches never put you in the red zone flowing as you went beneath the trees opening up to vistas of the Sierras that'll leave an imprint.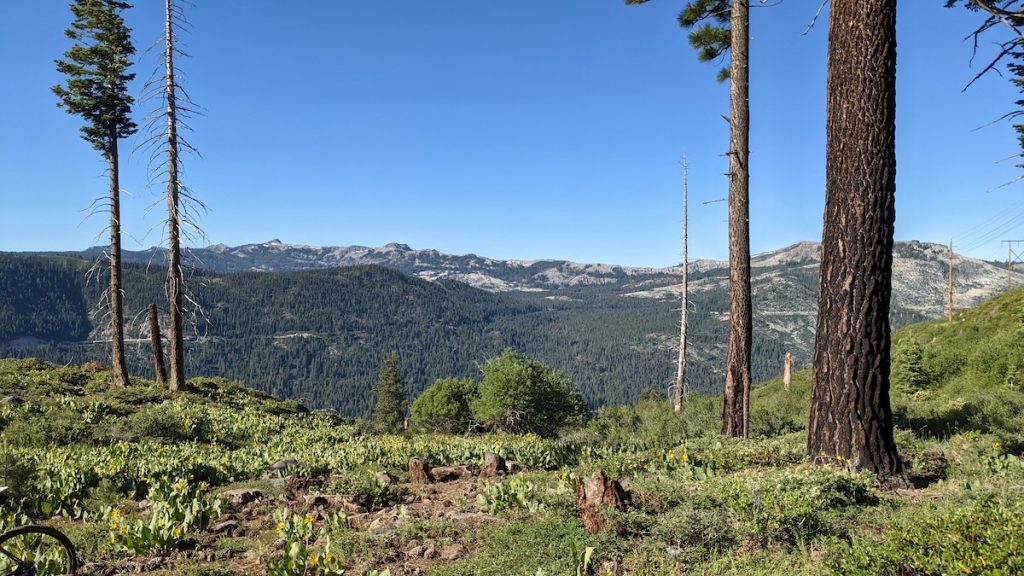 As with most of the trails we rode today, DLRT is more gravel-friendly going up as some larger rocks and sediment provides more of a challenge going down, but there are plenty of other fire road alternatives in the area to explore as well.
Another great note is how well marked the area is almost like consulting a map of Disneyland to see where the next ride is.
Our loop was only thirty miles, but at this distance our arms were a bit more worn than our legs.
Still, you can't argue with the beauty and all the fun that's packed in around Truckee and if you're making your way through, you're definitely going to want to gravel it.