When planning out your gravel calendar, Prairie Creek Redwoods State Park is the type of place we all aspire to visit.
Riding between those colossal trees, skimmering by the Pacific Coast and circling past the mouth of a major river are three things you don't expect to check boxes all on one ride.
I've always been intrigued by the Lost Coast, but that name comes with some reason as this section of the coastline is not as well-known as other parts of the state.
Part of the reason I do these guides is to help educate others, but it becomes a chicken and the egg question where to begin.
Thankfully, I connected with the people behind Dirty Freehub, which is a nonprofit organization providing an on-line guide to over 8000 miles of gravel bike routes in the West.
There were a few options they provided in the northern Humboldt County region and the variety within this route gripped me the most, but as with every gravel cyclist….
We all face a time where you can't control the weather and on this particular day despite the rest of the county being locked in a heatwave, I faced an incredible amount of dampness that altered the shape of this ride.
Consider it paying my dues.
Still, despite the slickness, I could see what a wonderful route this is save for the combined four miles of the Coastal Trail coupled with the Ossagon Trail climb.
The beginning few miles riding between redwoods interlaced within the forest was a perfect piece of dirt rolling and floating between the trees.
Even riding along the bluffs was fun turning at a high tempo until the aforementioned section came up offering downed trees, narrow wayfinding and finishing with a steep ascent.
Heading to the northern half of this route was far simpler even though it involved a bit more of climbing.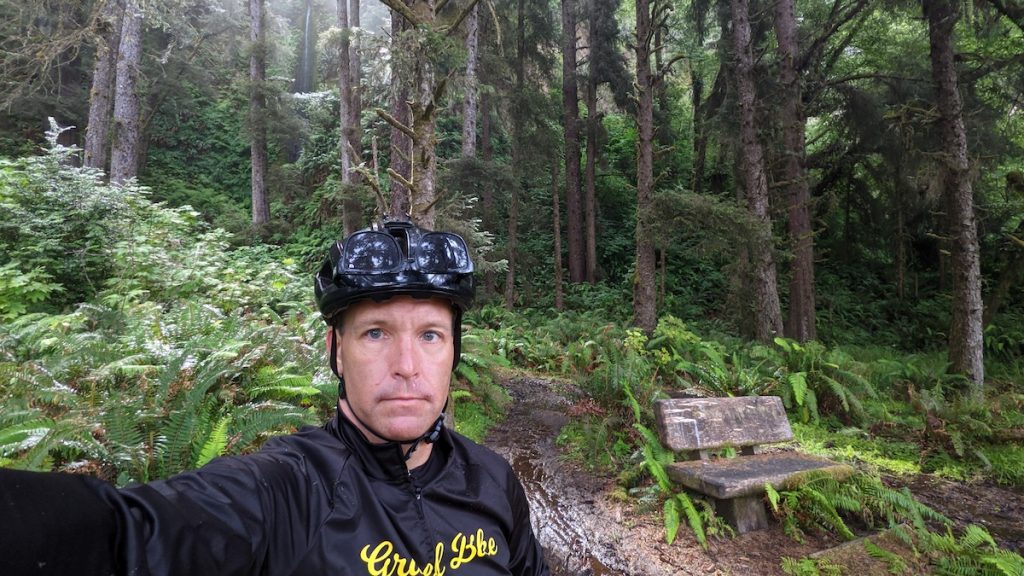 Returning back to the Coastal Trail brought back the wetness and fog, and while the terrain and surface was in a much better place than my previous difficulties, I decided to turn back riding solo and having not seen anyone else for miles.
Is it a bit heartbreaking to go back and see fantastic photos of this section under better times?
Absolutely, but it's also inspiring to return and continue the adventure.
While my visit to Prairie Creek Redwoods State Park wasn't a full success, I could definitely appreciate the opportunities and can't wait to return up the coast.