Onion Valley Road is clearly not worthy of words.
No matter your eloquence, it is impossible to capture its essence in only two dimensions.
Firstly, the Eastern Sierra offers the most epic and tallest peaks in the country under a unique setting.
These heights are courtesy of the oceanic plates surging underneath the North American plate forming glaciers leaving the Owens Valley a blanket of sediment in contrast to these mountains of permanence above.
The climb out of the town of Independence is just five feet short of a mile of vert which is already noteworthy.
It is longer than Tour de France icons Alpe d'Huez and Col du Tourmelet while almost matching Mont Ventoux, but averages with a slightly higher grade than all three and PJAMM Cycling has Onion Valley Road as the toughest in the state.
What really distinguishes Onion Valley Road from these monuments is its superior elevation topping out over 2,000 feet higher than any of those French peaks.
When you do a ride like this for the first time, you want to enjoy the experience and the profile does the best as it could to help accomodate.
The first half of the ride "eases" you in starting at a playful 3% seemingly ticking a point per mile until you hover in the 8% range.
There's a lot of intrigue with the scale of the Sierra without knowing actually where this road leads.
While directionally there are few adjustments to start, crossing over the tiny waterway on the fourth mile, the road starts to trend south as you can now pick out some trace knowledge where you're headed.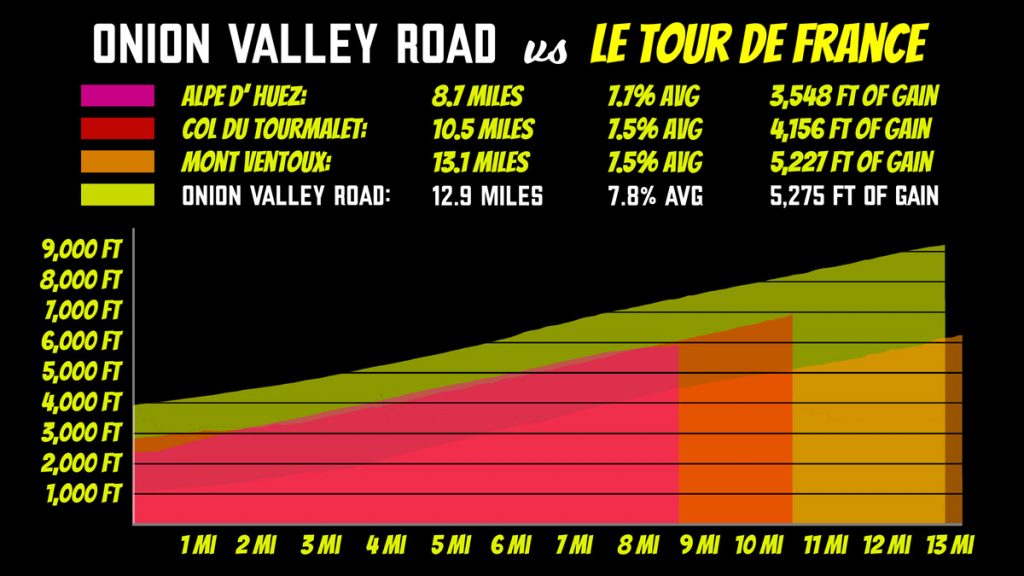 The pitch starts to flirt in the double digits, but hitting the halfway mark over Independence Creek is where the degree of difficulty kicks in without much knowledge of it.
As the road starts to wind, your mind is occupied as you first recognize your height above the Owens Valley as well as the cuts in the mountain where the road leads.
Pitches come and go in the teens as you alter placement on your saddle, but you feel smaller with every pedal stroke wedged in between these 10,000 foot vehemoths.
There are two sets of four switchbacks to contend with first running north / south, then trending east / west allowing you to experience every angle of this climb.
By now you're well above 7,000 feet and you'll know quickly how much you can exert under this elevation.
It's up here were you also start to curve around emerging trees and greenery, although fall is a magical time to experience the Eastern Sierra as it hits all the notes with fall colors.
The last mile is essentially straight making your way towards the campground, but it the climb wasn't already tough enough, imagine Onion Valley Road climbing another half mile over the Kearsarge Pass which was proposed in the 1930's.
There aren't many amenities at the top other than restrooms, but you'll be eager to enjoy the fruits of this thirteen mile climb on the downhill.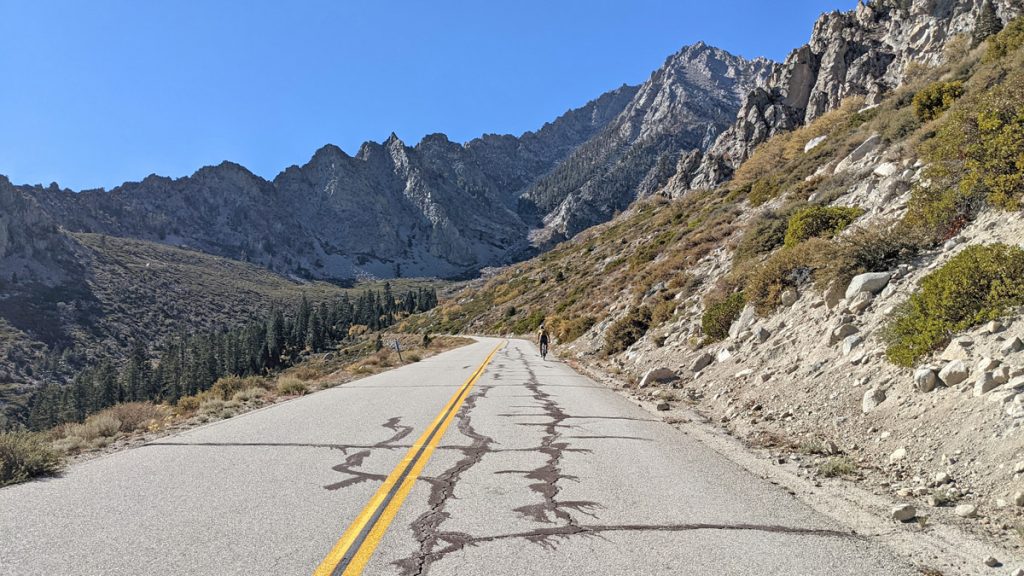 While the road is a little bumpy coming from its freeze joints, traffic is extremely low allowing you to take it all in.
I may never get to fly under my own power, but descending Onion Valley Road is as close as you'll get to floating as your soar along the edges as you look down on Owens Valley from the heavens.
This is one of the longest downhills you'll experience, so expect a few minutes for your ears to pop, but once back to normalcy you'll be eager to do it again.
Onion Valley Road encapsulates the adventure we all seek on a grand scale to the point it'll influence every other ride you do.
In other words….a must.