Mendocino County may sound familiar to us, but unless you experience it in person you can't truly appreciate all it has to offer.
Yes, many Californians have an idea about it perpetuated by the craft chain restaurant, but this area acts independent of that image.
This region has an ecosystem all of its own, independent of the bigger trends of what drives California.
Population is sparse, even by the coastline with Fort Bragg distancing itself as the largest settlement around seven thousand inhabitants.
While tourism plays a role, the logging industry's footprint which began in the later half of the nineteenth century still leaves an imprint on the North Coast.
You have to go inland a couple of miles to find them, but the coastal redwoods are still plentiful and the forests still have many roads, both paved and otherwise to enjoy.
The Jackson State Demonstration Forest is an excellent place to explore them, especially by gravel.
While my route was sidetracked by trying to follow the Grasshopper Series route not knowing I picked a private logging road, there were still plenty of options to choose from.
Yes, it would have been a bit more handy to have the detailed park map (below), but I was confident that the forest was well laid out and the pitches wouldn't be to extreme to allow logging trucks to climb them.
It's also noticeable that this is a demonstration forest with signs indicating research and a number of crews studying the science of this ecosystem.
At least this results in some well manicured surface conditions which helps on those long stretches in the low double digits.
Once I caught my bearings, I could have gone deeper into the forest, but I also wanted to experience beyond the trees.
Close by is the Point Cabrillo Lighthouse which has served the area since 1909 which seems a little late considering how the logging industry was firmly placed fifty years earlier.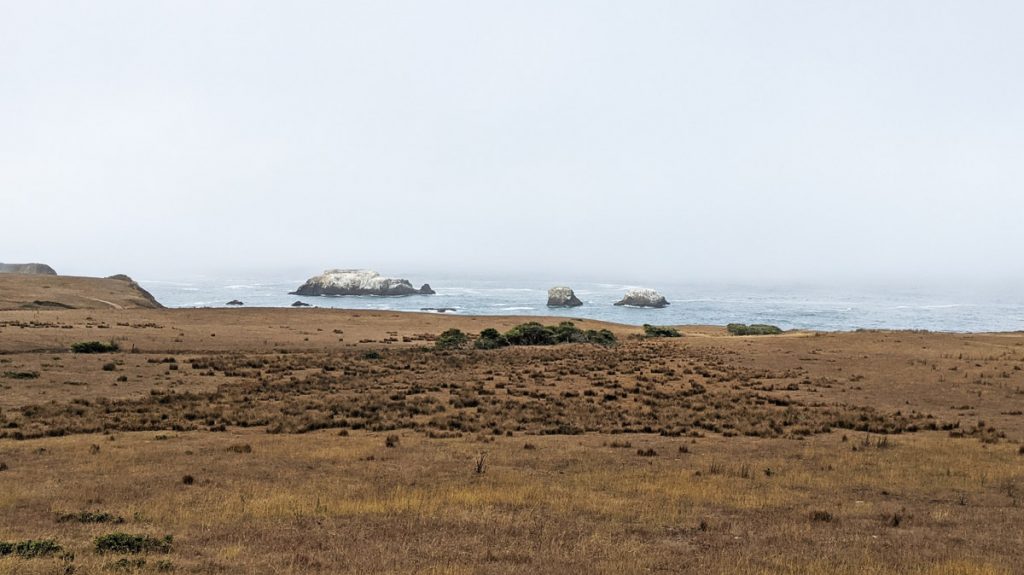 Surprisingly, you don't get as many wide open views of the ocean you would think on Highway 1, but having an opportunity like this and think about what life was like here over a century ago isn't a bad way to pass time.
Even with the heavier traffic around the Fort Bragg area, you still feel like the day moves at a slower pace and you have no pressure to explore.
While Mendocino gravel is the destination, the whole area is an attraction.