There are so many ways to love gravel riding, but you can easily encapsulate it with a trip up to Mammoth.
As a first-timer, it doesn't put me on the top of the list as a premiere guide, but there are so many resources available that stepping into it is easy on so many levels.
I registered for Mammoth Tuff and even though it went virtual, there was enough information from the ride on top of the tips that organizers (and pretty accomplished riders) Amanda Nauman and Dave Sheek eliminating the fear of taking this on alone.
Primarily, this was a family trip, but I knew my wife had a Zoom call in the afternoon on Saturday and my daughter had school online for Monday, so I'd get at least a couple of pockets of riding in.
Day one we were all getting acclimated to the altitude which Mammoth hovers around 8,000 feet.
After wandering around the Village for breakfast, it was an easy drive to Convict Lake which was a manageable two and a half mile hike for a seven year old.
With the fall colors on display, we couldn't have picked a more perfect time of the year with this ideal setting under Laurel Mountain.
That afternoon I got in my first ride within a two hour window, although it was a bit perilous by my own doing.
I decided to do the first dirt section of Mammoth Tuff in reverse because climbing it would give me more time in the forest.
Unfortunately, I thought a map wasn't needed and riding off of memory caused a lot of pausing and second guessing until I stubbornly downloaded the route.
Also, if I discovered the signs above earlier would have been enough, but my mind was also on vacation too.
Even though there was an incredible number of roads to divert off of, I still felt comfortable having all this peace and quiet to myself.
There was a couple of patches of sandiness, but it was an ideal ride to start the trip off even though I only got in about five miles of dirt….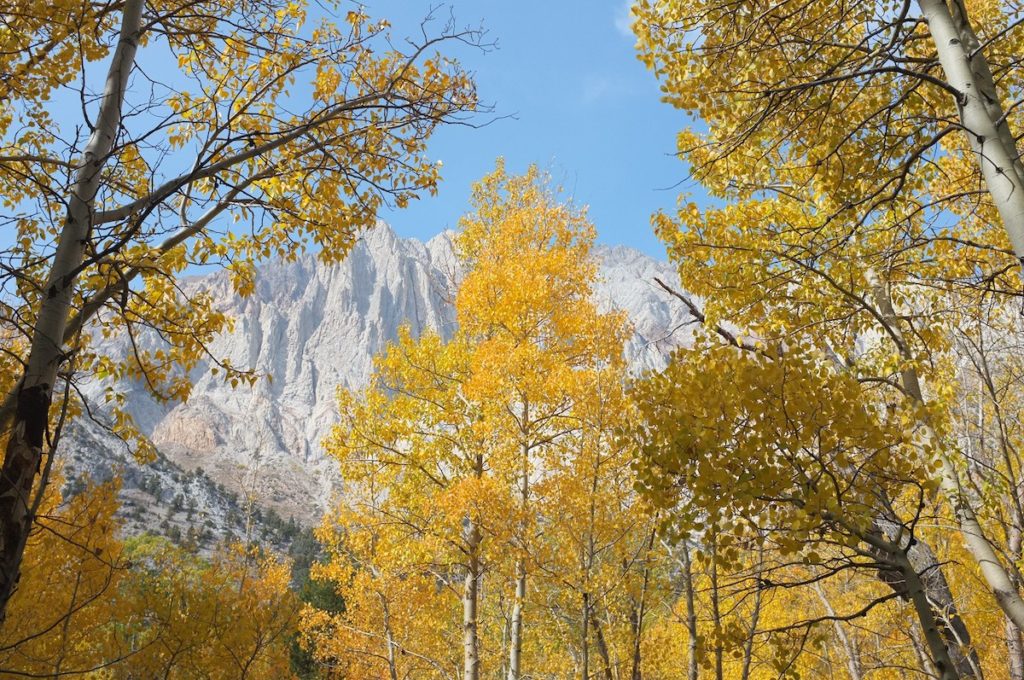 …until I stopped paying attention and got onto the Mammoth Loop (or Earthquake Dome. Still not sure).
Not a big problem as with good cell reception, I came back up on Mammoth Scenic Loop fairly soon.
Day two was all about visiting sites as we got up fairly early to make it towards Yosemite.
We stopped at the famous Whoa Nellie Deli at the bottom of Highway 120 for breakfast before heading up for some adventures in Tioga Pass.
I did see a couple of cyclists efforting this climb, but I was very content to take my time and pull over here and there for all the views.
Having a reservation for the park would have been nice, but we got out to hike around Tioga Lake which was plenty of fun at this altitude.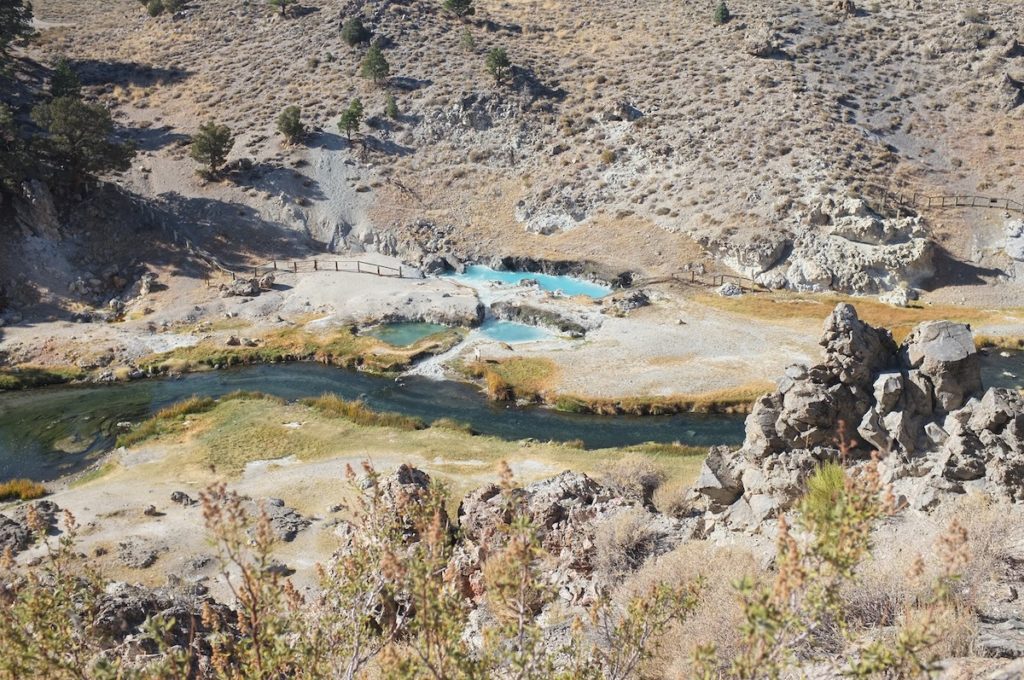 On the way back down, we stopped into Lee Vining where the sugar from Mono Cone hit the stop, before taking a brief stroll around the unique Mono Lake.
Heading back towards Mammoth, we detoured onto Highway 158 where we just decided to hop out and hike around Rush Creek where we were completely knee deep in autumn.
I could sense the family was getting a little tired by the time we made it to June Lake, but before we returned to Mammoth, I had to take them by Hot Creek which my daughter wanted to see from a Nova episode.
With still some sunlight left when we got back, I knew an hour was enough time for a short ride up the Lakes Basin Bike Path while they took a quick rest.
There are a lot of amazing views packed into these 5.4 miles, but as amazing as this dedicated piece of infrastructure is, it may be a challenge for some beginning riders to climb up as it averages 3.2% with some punchy parts that'll give trouble to some grade schoolers.
I think this ride is ideal to start your trip because not just all the lakes you cover in a short amount of distance, but it's a great way to get acclimated to the elevation as you even reach 9,000 feet at the top!
There were still some paths to explore, but there was already plenty to take in and I wanted to start preparing for all this Mammoth gravel on Monday.
By all accounts, riding 35 miles with just 2k feet of climbing is not a lot, but knowing that I had to start in 30 degree temperatures without support got me a little worried about the timing about finishing up before noon.
I followed essentially the middle distance of the Mammoth Tuff course subtracting out the first dirt section which I did Saturday.
Starting at 7am, it was pretty frigid on the descent down Mammoth Scenic Loop before crossing the 395 where things got dirty.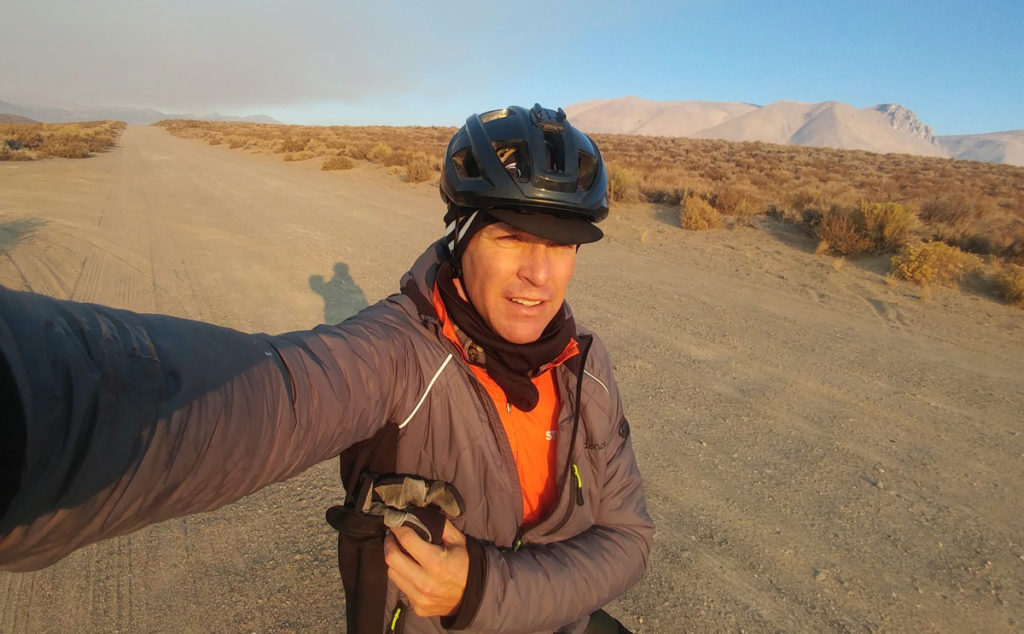 This time going into the forest, I was better prepared for navigating all these roads, but it was pretty simple once I got up to speed.
Lookout Mountain provided a good reference for navigating around because the downhill which perfectly alternated between the pavement launching me into dirt was a fun way to get started.
Merging onto Owens River Road turned the magic meter up as I was hitting the morning sunlight just perfectly descending into the ranches with a layer of clouds borrowed from the heavens.
Crossing the cattle rail put me onto turn for the next several miles where the trees stayed off in the distance, but taking in this whole valley with this silence had a real celestial feel.
The surface was a little soft in areas which takes a little more effort than normal, but never was I close to putting a foot down from stalling.
It's easy to get wrapped up and not notice the far off details, but as the waterways close in, so does ranch life and even some overnighters.
Crossing the bridge to Hot Creek was a worthy stopping point as a bunch of people camping were lucky enough to begin the day like this.
Continuing on, I didn't necessarily need to stop at the geological site again, but with air escaping my tire, I took it as a sign for which direction my indecision should follow.
Even if I was in the middle of racing Mammoth Tuff, I would pull over for a moment as the purity of the springs is an amazing blue contrast, especially without tourists this early in the morning.
After the delay, I still had about ten miles left and was glad to have that hot tip to avoid riding on the 395 making a direct dirt line back into town.
At this point, the ride was fulfilling enough that I didn't have to add more gravel to call today a success, but when in Rome….I added the short climb up Sawmill Road.
Years before this area became a ski resort, this road serviced the area at a time when mining these mountains was the main purpose for travel.
I was happy to get some last few minutes of riding in the forest before the perfect ride to close out the weekend.
For sure I'll be coming back because there are many other spots to explore such as Deadman's Creek and Obsidian Dome and if you don't have Mammoth Tuff on your calendar, start clearing up your schedule.
As if California doesn't already have a richness of riding, Mammoth can check every box that's worth a few days of adventures.