Biking Glacier Point Road has always been on GBC's bucket list status with one caveat.
No doubt, this is one of the most scenic roads in California with an enormous payoff at the end with a direct view of Yosemite Valley and Half Dome all up in your face.
The problem comes with Yosemite National Park being one of the most sought after tourist destinations in the state and sometimes the outdoors loses its grandeur with a density of travelers that ruins any solitutde.
As the kids say, Glacier Point is very 'grammable meaning it normally loses its luster as everyone scurries for that perfect shot.
Fortunately, years ago the Vegan Cyclist who lives nearby in Bass Lake started posting about the road being open to only cyclists, but there's a catch.
Normally, Glacier Point Road is closed to all traffic from November to when the snow level decreases enough that crews can start clearing it for general consumption.
During that time frame which lasts roughly a week, the road is open to non-vehicular traffic except for the trucks doing maintenance.
The issue is being Johnny on the Spot because that period can fall anywhere between mid-April to mid-June with only a few days notice.
That means if you want to commit to this ride, you have to be flexible and hit the refresh button to be ready to jet quickly.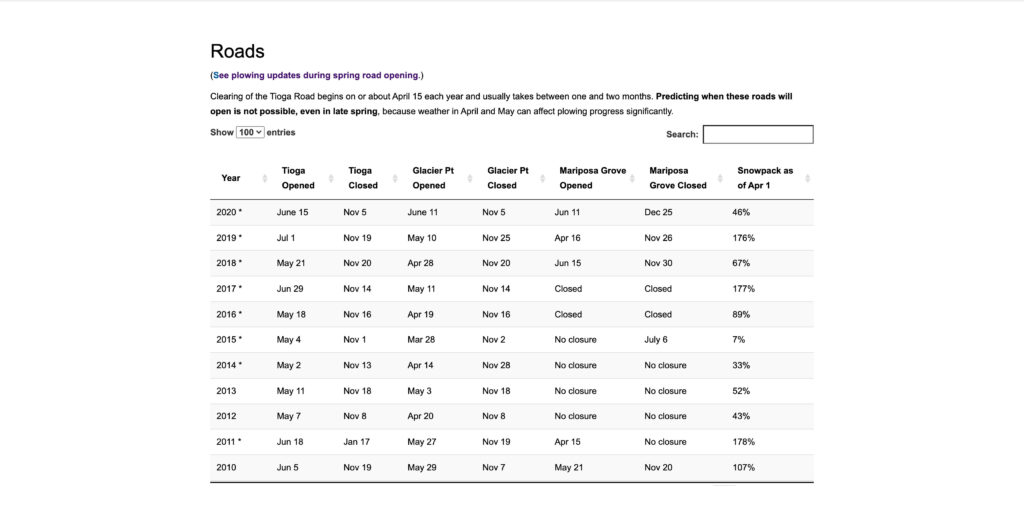 For five years, I had been following this announcement, but unfortunately time didn't match up until I was lucky that the last day it was closed to traffic coincided with my Bay Area trip.
I was so excited, that I woke up three hours earlier (1:30am) and decided to make a run for it to ensure I had plenty of time to take it in.
Starting at 7am, I was prepared for some type of cold, especially beginning at 6,000 feet.
Seeing how temps can still linger around freezing, I was fortunate enough to get away with a few layers, but temps heated up fast as the sun gained exposure.
The climb itself was very steady and didn't have to get out of the saddle except briefly at the start of the return.
You're shut in for a good part of the ride by these sky reaching trees, but I found it calming to look up and realize how out of scale I felt.
Reaching Glacier Point is one of my greatest highlights in cycling, not that it was any type of physical achievement, but this was a, quiet, somber experience made possible only by bike.
I approached Half Dome thinking what the first person who laid eyes on this view thought, something that easily crosses your mind in this solitude.
If I could do it again, I'd plan around picnicking and spending a few hours because this is a moment I'll never forget.
Unfortunately, the road is closed for entirely for 2022, but I would advise keeping an eye on Tioga Pass because that road offers cyclist only closures as well, albeit on a different timeframe.
I'm still figuring out what belongs on my bucket list of cycling, but with Glacier Point I now have a starting….point.