Susie Murphy has served as Executive Director of the San Diego Mountain Biking Association since 2015 following her passions for biking and trails into advocacy. She has spearheaded a number of educations programs and trail projects while building out a strong core of volunteers to maintain them. GBC digs in with Susie about the off-road landscape around San Diego and what drives her dedication to this community.
How did bicycling become a passion for you?
I started riding seriously when my husband started riding with our daughter on his bike in a backpack. I was just nervous he would get too crazy with her. He used her as a training tool and riding buddy. I was just trying to keep up with them. She is 30 now and she has a keen sense of how to pick a line on a trail. We started exploring trails close to home and then traveling around to races. For a few years, we were all racing. It was a great way to raise a family!
What was your path that brought you into trail advocacy?
I started as a volunteer of the Mountain Bike Assistance Unit at Cuyamaca Rancho State Park over 25 years ago. As I worked with the park staff and organized their annual mountain bike event, I learned a lot and met a lot of local industry people and those volunteers involved in advocacy with SDMBA and IMBA. After teaching for 10 years, I started exploring local non profit jobs and a friend on the SDMBA board said they were gearing up to hire their first ever staff person and, well, here we are, 7+ years later. I never imagined I would be working with over 20 different land managers and agencies and speaking with elected officials on the importance of trails. San Diego County is a big place and even though I was born and raised here, I learn new things everyday about this special place.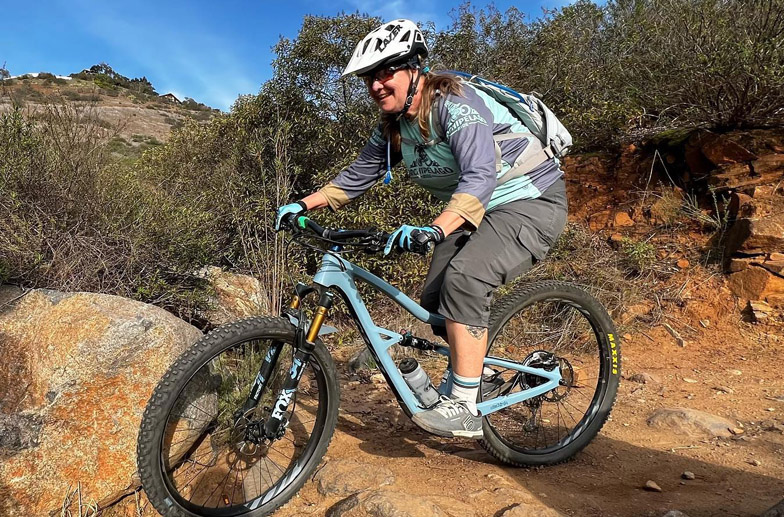 What are some of your favorite projects you're proud to be part of?
Anytime we can bring a new legal trail into the system is the best. I am proud of the new trails SDMBA has built at Black Mountain Open Space Park, Del Mar Mesa/Penasquitos, Cuyamaca Rancho State Park, Pacific Highlands, among others. I am also proud that we have helped advocate for bike parks in San Diego County with a few currently open and more in planning. The planning for any project takes years and the small wins must be celebrated alongside the bigger, public facing projects. I also an proud of the community events we put on including the Archipelago Ride and the Mount Laguna Trail Fest.
How has SDMBA been able to build up such a solid core of volunteers and supporters?
SDMBA has always had a core group of passionate folks who believe in our mission of improving trail access for mountain biking in San Diego County. Some become board members, some are trail liaisons, some help with events or even administrative work. Volunteers also assist with skills such as mapping, project management, land use planning, grant writing, event planning, fundraising and development, non-profit management and more. We make our events fun for volunteers, provide some cool swag and have a big Volunteer Appreciation Party each year. Our sponsors really treat our volunteers right!
People who get involved in trail work begin to understand the real feeling of accomplishment after a hard days work and especially after getting to ride that trail and say, "Hey, I worked on this section!" There is literally blood, sweat and lots of tears involved in every trail that is built legally. Every rider and trail user should become a member of their local trail organization to help support the volunteers in their advocacy efforts and trail building projects. All riders should educate themselves about local land and access issues. Complaining when your favorite trail is closed does no good. I encourage all riders to volunteers, attend advocacy meetings, learn the issues, attend a board meeting and get to know the leadership and get involved!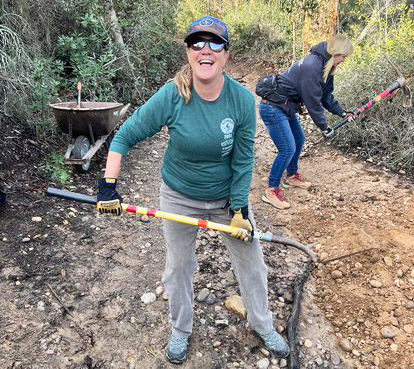 What are some of the best places for riding off-road around San Diego?
San Diego County is unique in that we have many different ecozones to explore. From bikepacking in the Anza Borrego Desert, to fun flowy singletrack in the pine forest of the Cleveland National Forest to the chunky chaparral foothills and all the way to the coast. There is a little something for everyone including loads of backcountry gravel adventures. Some of the most popular riding areas including Mount Laguna/Noble Canyon, Penasquitos Canyon Preserve, Black Mountain Open Space Park, Sweetwater Reservoir and Daley Ranch.
Are there any future trail projects SDMBA has in the pipeline?
There are many projects large and small around the county right now, but the one we are really excited to implement is the Mount Laguna Trails Restoration Project. We have been working with the Cleveland National Forest on planning for this project for over 5 years. This project, once approved, will take several years to implement as it includes almost 8 miles of new trails, several reroutes, adopting legacy trails into the system, signage replacement and other infrastruture improvements. Other projects include new and improved trails at Black Mountain, Daley Ranch, and more. More information on our projects is available at SDMBA.com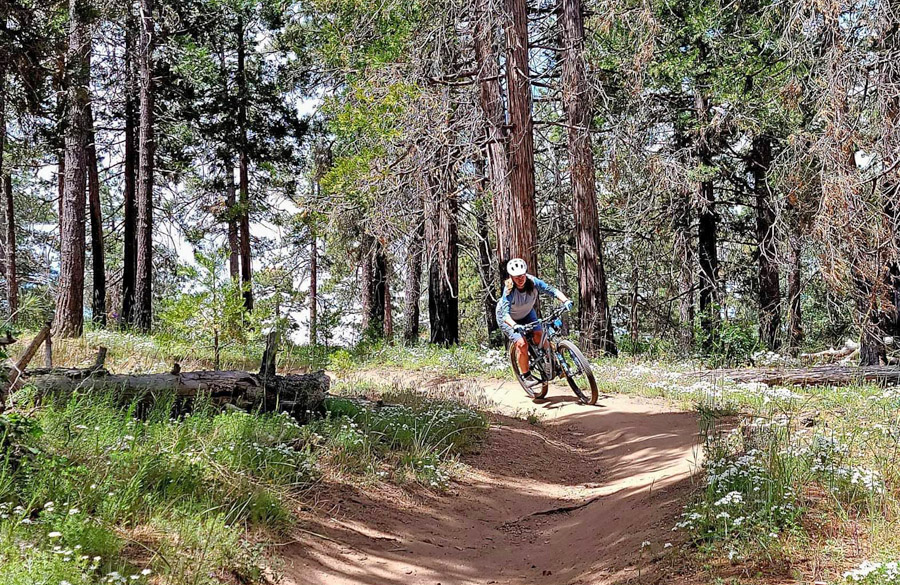 Formed in 2019, you also serve on the California Mountain Biking Coalition Board of Directors. What are some of the goals CAMTB is looking towards?
CAMTB works on larger trail advocacy efforts at national and statewide levels with agencies like California State Parks and the US Forest service. Currently 28 trail advocacy organizations are chapters of CAMTB. CAMTB engages major land managers, like CA State Parks and the U.S. Forest Service to effect change, tracks and influences State and Federal legislation and elections, and activates the larger riding community through our support of local trail advocacy organizations across the state. The high level work of CAMTB allows us to focus on our local opportunities and challenges while using the resources they provide to bolster our efforts. I am inspired everyday by working with passionate trail advocates from around California. More information can be found at CAMTB.org
Lastly, what is your favorite ride of all-time?
This is always a hard question.  For a single trail that really hits all the right notes, I think Thunder Mountain in Utah is stellar.  For my favorite ride in San Diego County, I think Mount Laguna and Noble Canyon is the ticket.  Although looking back on some of my best days on a bike, it has more to do with the people I was with than the actual trail. The best days are when are with the best people on the best trails!  Those are the days to treasure! 
Sign up for our monthly Gravel Bike California newsletter for more profiles.