Without knowing much, the words Sierra National Forest just sounds like a place you'd want to ride and there's Dinkey Creek Gravel to oblige.
Five years earlier, I rented a cabin nearby in Shaver Lake for my first experience cycling in the area and while it was a great trip, I didn't feel totally fulfilled only because there was so much more to explore.
On the last day, we did a short road ride out to Dinkey Creek which was straightforward until we reached our destination enjoying the summer flow of this waterway.
I wanted to know more and luckily Joe is one of the best sherpas in the area exploring on all types of bikes.
On paper, the 42 mile loop he constructed has 4,800 feet of climbing is modest for a gravel ride, but sometimes you don't know what those numbers mean in practice until you're out there.
The ride starts out on pavement with mild climbing to warm up the first four miles, but is followed by ten miles of playful descending on multi-surfaces to get the blood pumping.
When you have such a big plunge early on, it's always worrisome to have the climbing backloaded.
Crossing Dinkey Creek flipped the switch with thirteen miles in the opposite direction, but this was one of the most well-paced climbs I've done even at this elevation.
Dinkey Creek Gravel Loop
This ascent also proves it's better doing this loop counterclockwise with all the viewing opportunities.
The most monumental is an unmarked turnoff to Patterson Bluffs halfway up the ascent that is a show stopping look of the varying strata of the Sierra not to mention the historical markings from the Monache.
You get more openings at the 7,389 foot peak of this climb, but you're lured into a semi-bumpy five mile descent that's fun if you keep your wits about.
Deer Creek marks the bottom and is another viewing opportunity even flowing in the summer months followed by a third of a mile climb ending your experience off-road.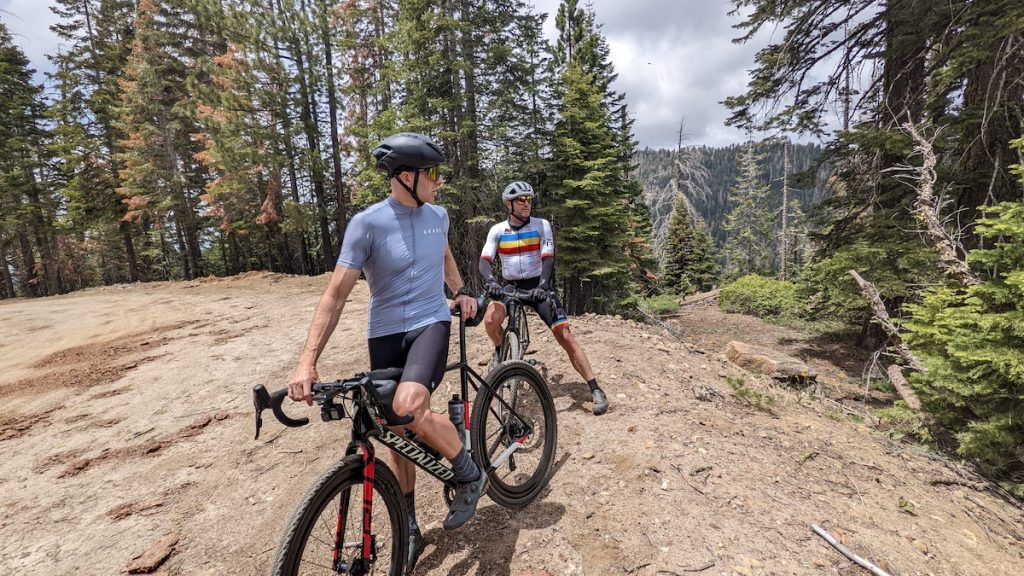 Reaching McKinley Grove Road leaves ten miles on your trip, but it's hard to judge whether it's going to be up or down considering all the change in elevation.
Fortunately, it's mostly an effortless trend almost to the point that you might miss the feature that's the namesake of this road.
The giant sequoias of McKinley Grove is definitely worth a stop, especially considering how quiet it is to marvel in the height of these behemoths.
With a few more miles left to complete the loop, you can also do a short audible to ride across the historical bridge spanning Dinkey Creek or visiting the inn right off of its exit.
It's hard to encapsulate what a great ride this felt like as normally you remember one epic moment, but there was a high bar set early on that was consistently met meaning thankfully the Sierra National Forest has so much more to offer.