Many see Southern California / the Los Angeles Megaplex as one region, but I'm sure cyclists see it a different way.
While every piece of land that's semi-flat seems to be accounted for, it's the mountains where it's best to differentiate it all.
You can call us blessed singling out just one range, but I'm giddy for new opportunities moved onto the Santa Anas and some Black Star gravel.
This had been high on my to-do list and pleasured to have Amanda Nauman and Dave Sheek of Tuff Ventures show us along that's a staple in their backyard.
We started out of the Lake Forest area taking advantage of the bike trail system in Orange County taking Serrano Creek and Alison Canyon efficiently up to Santiago Canyon.
Even though you could see the modern creep in, this six mile stretch was a pleasant getaway passing generational ranches and pristine open space best suited for spring viewing.
Directions were simple with a quick turn to Silverado Canyon and immediately onto Black Star with dozens of vehicles nicely aligned with well-kept amenities and surface to complement.
After a half mile of the straightest dirt of the day, turning eastward the featured climb of the day begins easing you in.
The first two miles hover around a calm 3%, but foot traffic lightens up at the hairpin as most hikers continue ahead to the waterfall with the real effort being left for the two wheelers.
You'll be going deep into low gears for the next two miles to the tune of 8%, but you get the benefit of climbing as the winding road soon elevates you to views of the ocean and beyond.
The next half mile is a reward with a slight descent but you can understand why this flat-ish portion was an ideal spot for the site of the native village Puhú.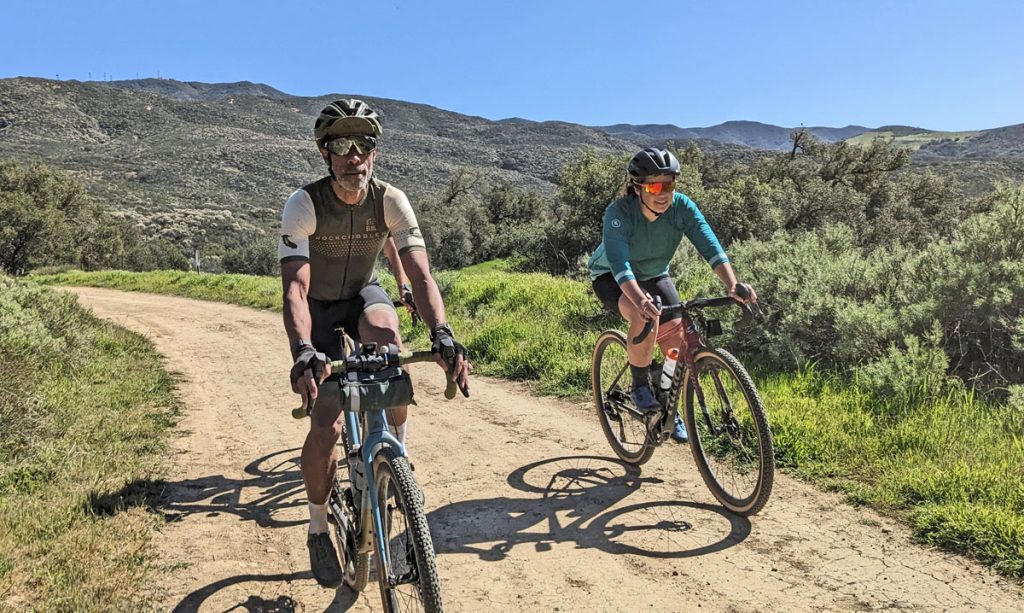 It's back to the grind the next two and a half miles as the rocks become more exposed, but your endpoint becomes more defined seeing the Doppler tower up ahead.
Reaching Main Divide Road is greeted by the 1930s Beeks Place in the process of restoration to be used again as a residence.
While the climb can continue on, most opt to continue the half mile to the weather station despite a grade flirting with double digits.
The descent is a fun sweep of curves that you'll be glad to double back on to familiarize the changing conditions you'll have to be aware of.
Overall, Black Star gravel gives solid marks on every aspect only encouraging your desire to go deeper into the Santa Anas.