One of the most repeated questions I get center around the curiosity of Alabama Hills Gravel.
The name itself raises eyebrows here in California as yes, it does link to confederate ties.
Still, nomenclature only gets your attention so much as the Owens Valley is a gem of surrounding beauty with the Eastern Sierra Mountains as a backdrop.
Within all this theater, the Alabama Hills does distinctly stick out because of the unique rock formations that have left an imprint for millions of years.
These shapes mixed in with the surroundings have been a calling card for movies so often, there even is a museum located in Lone Pine.
One of the biggest issues biking the Alabama Hills concerned the washboard and sandiness going off road, as well as the elevation.
With my natural tendency to plot out loops instead of out and back routes, I knew the ride would have to be centered around Whitney Portal Road, but I wanted to avoid as much traffic as possible.
Fortunately, Tuttle Creek to the south not only offers a detour for the first part of the climb, but also is a quiet entry into the Alabama Hills landscape.
It's roughly 2 1/2 miles of steady vert to make your way through as you're surprised to find homes coming out, including the Oyler House by famous architect Richard Neutra.
You loop back to Whitney Portal via Horseshoe Meadows Road which is an epic climb in its own right and ranked the seventh toughest in the US.
Hitting the main road is a five more upward miles which normally would be a slog, but with Mount Whitney as your background, time shifts accordingly.
The turnoff onto the dirt of Hogback Road isn't prominently noted, but even without GPS you understand that this is the final split before the mountains.
With over five miles of descending, this would be a proper test of the surface, and while you had to be mindful of said conditions, they weren't a factor in dampening the experience.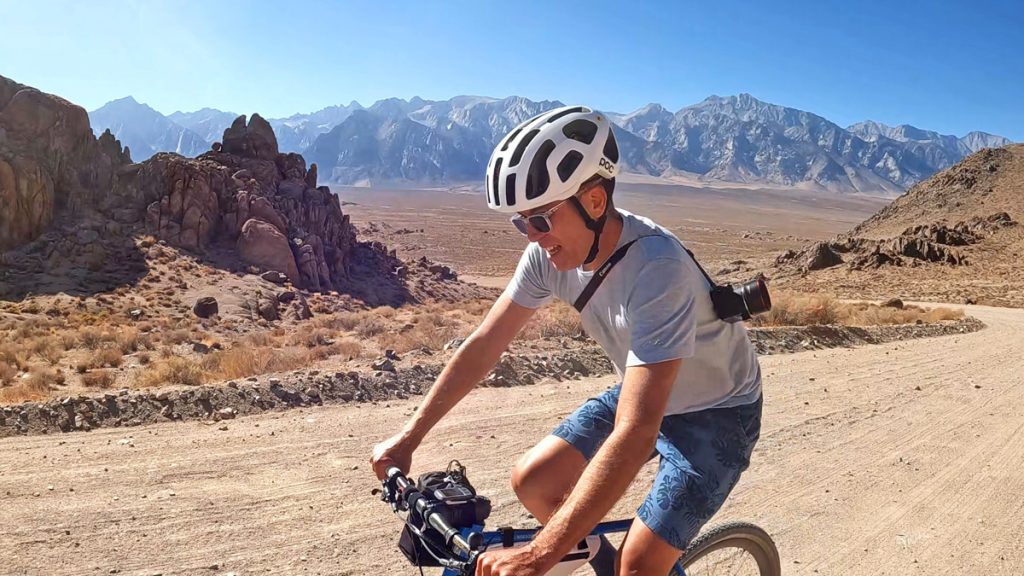 If anything, you could slide on the loose dirt and even the washboard wasn't too intense leaving to whisk your way at your desired pace.
While there are scarce man-made features, signage is pretty clear to turn right onto Movie Road, as you should be oriented as well.
Looking at the frequency of films shot here, it's amazing there's no noticeable trace of production.
The fact that you roll between the variety of formations makes you want to spend a day discovering it all.
We took an extra jaunt on the Arch Loop Trail to look at the Mobius Arch which frames Mount Whitney perfectly in the background.
Our journey ended descending Whitney Portal Road back into Lone Pine that without looking at the milage knew that we had a fulfilling ride.
The Eastern Sierra is a required spot for riding and getting in some Alabama Hills gravel is an excellent entry point for discovery.